You knew that you wanted your wedding to be a fun and memorable event. You want everyone to have a blast, which is why you booked the perfect DJ for your event. Now all you need is some great music! What type of music should the DJ play at the reception? How about country line dancing tunes or do you want something more mellow like rock ballads? Whatever it is, we've got just what you're looking for and much more! Check out our website today to see what's available.
A wedding DJ is a live performer that provides music to your guests at your reception. You can hire a professional or use an online service like Spotify. Wedding DJs have played weddings for decades and are now more popular than ever. It's not uncommon for couples to spend thousands of dollars on their entertainment, which includes the cost of hiring a DJ (or bands). Have you considered what songs will be played? What about having the ceremony in another language? All this can make choosing a DJ overwhelming- so let us help! We've compiled our list of favourite wedding DJs from all over the world, including some who play other instruments as well as provide photography services too. If you're looking for something different, we've even included one guy who does
Located in Melbourne, Victoria and looking for a Wedding DJ or MC? When you are planning your big day, you probably want everything just perfect. One of the best ways to make sure that it all turns out the way you dreamed is to select every vendor yourself personally. This way, you can choose the ultimate location, the best entertainment and the most delicious food, and craft your ideal wedding day.
Add a header to begin generating the table of contents
LIst Of Best Wedding DJ Melbourne, Victoria
Melbourne Entertainment Co. Melbourne Entertainment Company
1300 858 981
melbourneentertainmentco.com.au
bookings@melbentco.com.au
Custom Entertainment Performed by Youthful & Perfectly Presented DJs, Singers, Acoustic Duos, Sax Players & Live Entertainers
Our fresh mixes by Music Curator, DJ & Saxophonist Nathan Op de Coul, are broadcast LIVE ON-AIR Nova 100 every Friday night 10pm-11pm.
We take a fresh & modern approach to wedding entertainment. The addition of live elements to our DJ sets is trending amongst Brides & Grooms, with the incorporation Saxophone, Percussion and Vocals impressively taking over the wedding scene!
In your personalised 1-on-1 consultation, we listen to your entertainment aspirations to create a personalised music concept for your special day.
Our exciting DJs and Live Entertainers understand the importance of delivering the perfect playlist on the most important and fun days of your life!
THE MOST PROFESSIONAL DJS MELBOURNE HAS FOR HIRE
OKAY, SO YOU'RE ON GOOGLE LOOKING TO HIRE A DJ IN MELBOURNE
NOT SURE WHERE TO START? WHAT TO LOOK FOR? WHO TO CHOOSE? HOW MUCH TO SPEND?
When it comes to looking for a DJ Melbourne Entertainment Company has some of the best and most experienced DJs Melbourne has on offer. Our elite selection of professionals know how to read a crowd and above all, play the perfect music for every occasion. Don't book an old out-of-touch, has-been DJ hire a young, fresh and cool professional that fits inside your budget.
Entertainment Offering:
Expert DJ Entertainment
Hybrid DJs | Combining Sax or Vocals with DJ delivery
Saxophonists
Singers
Acoustic Duos | Guitarists
Percussionists
Bands
Pianists
String Ensembles (Duos | Trios | Quartets)
Masters of Ceremonies
Roving Entertainment
Lighting
Event Management
Our Wedding Entertainment Packages include:
Personalised consultation to tailor your perfect playlist and meet your entertainment aspirations
Exciting DJs | Saxophonists | Singers | Bands or Live Musicians for your Reception
Beautiful Singers | Acoustic Duos | Guitarists | Pianists or String Ensembles for your Ceremony or Canapes
State of the art Sound Equipment and Black Surround DJ set up
Wireless microphones for speeches
Perfectly presented entertainers: Males, full suit, tie, pocket square & rose gold tie pin | Females: beautiful formal cocktail attire
A fun, sophisticated, unique & memorable element to your wedding
The highest level of personal customer service from the moment you contact us
MELBOURNE WEDDING DJ - DAMIAN ANDRES
Boasting a massive collection of music spanning across all genres as well as a 15-year career of DJingin clubs, festivals, weddings, corporate events and internationally, its safe to say there isn't a party situation Damian Andres hasn't played for. Starting out as a wedding DJ and MC, Damian quickly gained notoriety for the ability to cross genres seamlessly, be it house, top 40, hip hop or even classic rock or pub tunes, all the while maintaining a full dancefloor!
A club career followed, obtaining residencies at notable venues in Melbourne CBD and in the suburbs before the creation of a Daft Punk tribute show–'Discovery'–sent Andres and business partner Matt Campbell onto the touring circuit, DJing shows at every capital city in Australia as well as trips to New Zealand, Bali, Jakarta, Vietnam, Thailand, Ecuador and Papua New Guinea!
This touring act continues today, however, in between shows, Damian Andres continues to play at weddings and corporate events, providing full audio equipment, lighting and MCing duties. Audiences frequently compliment
Andres' fluid style of blending tracks and maintaining an upbeat tempo, whilst also being able to play a more mellow style depending on the scenario.
There is no doubt that this sharply dressed DJ will be a perfect fit for any event.
NOTABLE CAREER HIGHLIGHTS
Albert Park PoloPortsea
Polo after party at Continental Sorrento
New Years Eve at Sydney Harbour Bridge
Melbourne F1 Grand Prix
New Years Eve @ Sky High, Mt Dandenong
Big Bash Cricket @ Melbourne Cricket Ground
Toyota Awards Gala, The Ivy, Sydney
Oktoberfest St Kilda & Williamstown
Artist links:Facebook:https://www.facebook.com/djdamianandres
Instagram: @damianandres
Soundcloud:https://soundcloud.com/dj-damian-andres
Celestial Band Wedding Band Melbourne
0467 375 489
Your Day, Your Way
Congratulations, you've found the love of your life and have recently become engaged! Now it's time to start creating some plans for your dream-wedding! Ms Lexi & Celestial Band specialise in providing world class, full day live music on your wedding day. Completely customisable, we normally start the day off with our Acoustic Duo or Solo musician playing at your Ceremony (while guests arrive, aisle song, signing song and exit) and keep playing throughout your Canapés hour. Then the fun really starts, as we take the beat up a notch and perform as a 4 or 5 piece traditional band for your Wedding Reception! Lexi Ross is a Melbourne born and bred Singer, Keys Player and Band Leader. Our live band is guaranteed to have your guests up on their feet dancing the night away! Have a look at our Showcase videos to see our Soloist, Acoustic Duo and full band performing! We have a generous range of special offers, plus a secret complementary pre wedding gift to give you, ensuring that you have the most amazing experience with Ms Lexi & Celestial Band in the lead up to your wedding, and on the day! Finally, we are happy to learn song requests and yes, we service the whole of Victoria!
Wedding Band Packages from Ms Lexi & Celestial Band
Below are just some ideas of our different wedding band packages you may like to choose for your Wedding or Special Event. Enquire with Ms Lexi & Celestial Band today and tell us about your ideas. You might like to book a 4 or 5 piece band for your reception as well as an Acoustic Duo for your Wedding Ceremony. With Ms Lexi & Celestial Band, we'll do our best to make your entertainment dreams come true!
FAQs About Wedding DJ & MC
Only DJ's Melbourne Entertainment

Email: onlydjsmelbourne@gmail.com
Mobile: 0424 865 326
Website: https://www.onlydjsmelbourne.com.au
Only DJ's Melbourne Music has been our passion since 2003. We have performed at 1000's of events over the past 17 years. Our philosophy and approach to every wedding is that we are there to make you happy and we will always go above and beyond for you. We are very lucky to do what we are passionate about for a living, that's why we are called Only DJ's because we Only DJ for a living.
What makes us different from other DJ firm?
We will answer your emails or calls within 2 hours guaranteed. With unlimited email & phone call support.
We have live tracking so you will know our ETA and see exactly where we are on the day.
Every console we use is made up of the same speakers, lights and music collection, so you always get a consistent service!
We have onsite downloading for last-minute requests.
In the last 18 months we have received over 60 5-star Google reviews. What you get with every booking
You get one meet and greet with the business owner and head DJ.
You get the best all in one wedding DJ hire package in Melbourne, we include everything you need.
MC duties are included at no extra charge.
We consistently receive reviews such as this one left by Adam and Tahlia from their wedding.
'James was our DJ for our wedding and in the lead up to the day, he called me to check over all the details and gave plenty of reassurance that things will run smoothly! He was a total professional and has great communication. He was very flexible with song choices and had a really good idea of what we wanted. On the night his song choice has a lot of variety and played the right songs and the right times. He also checked in with us during the night to make sure we were happy, which we were! Thanks James for everything, highly recommended.'
See what our past clients have said about us by clicking here.
To stay up to date with Only DJ's Melbourne check out their Social Media pages.
Facebook: ONLYDJSAUS
Instagram: onlydjsmelb
Brentwood Duo Wedding Band Melbourne 
402719116
ABOUT
Finley and Isla Brentwood are a pair of Kiwi singer-songwriters based in Melbourne, Australia, well-known for their melodic, stripped-back style with crisp harmonies to die for
The Brentwood siblings gained viral notoriety with their crowd-pleasing acoustic take on the 'Deadpool Rap', catching the eye of star Ryan Reynolds and ultimately featuring on 'Deadpool Reloaded', the soundtrack for the motion picture.
BRENTWOOD went on to impress the Australian and New Zealand public after their first appearance on 2016's 'The X Factor Australia'. As the first act to receive a standing ovation, they set the bar high for the competition. The proudly ginger siblings didn't disappoint – under the wing of mentor Iggy Azalea, they won over fans week after week, ultimately finishing in the Top 7. 
Their latest musical journey sees BRENTWOOD extend themselves beyond their acoustic roots and explore a fuller pop sound, with their self-titled EP. The siblings traverse love, loss, escapism and anxiety with their signature harmonies and a new pop-driven direction.
BOOKINGS
Finley and Isla perform regularly at weddings, festivals and events around the world. BRENTWOOD have performed for MTV, QANTAS, Channel 7, Carnival/P&O Cruise Lines, Queenstown Winter Festival, Lululemon, Vodafone,  the Australian Open, and more. 
Get in touch, tell them about your wedding or event and they will provide a personalised and detailed quote. BRENTWOOD and their team will work closely with you to provide a quality, professional and tailored service to deliver the perfect entertainment for you and your guests.
DJ Kwenda Wedding Dj Melbourne 
439308670
Professional wedding DJ hire service
Music entertainment packages & prices
Whether one envisions their most special day to be elegant and timeless, or romantic and intimate, or simply relaxed, DJ Kwenda will work with you to create a seamless soundtrack to reflect this and give an edge to your wedding with his music creativity and flawless professionalism
Incredibly skilled and experienced in the wedding entertainment space, those who have entrusted DJ Kwenda with their wedding music consistently commend him most highly – as do their guests, reception venue and other wedding suppliers – and the photos in his media galleries speak to this
Wedding package inclusions:
DIRECT CONTACT AT ALL TIMES




Naturally, communication is the key to every outstanding service. Call or email at any time to talk directly with DJ Kwenda

1:1 MEETING




In the weeks leading up to your wedding, a complimentary 1:1 meeting is offered to meet with DJ Kwenda to discuss your music, order of your reception and all other details for the big day. Alternatively, if you are interstate or overseas and/or a meeting would prove challenging for you, or if you would prefer not to have a meeting, this can all easily be discussed on the phone and email. Easy!

DJ PACKAGE OPTIONS




Choose which best package best suits you! DJ Kwenda's packages have been intently refined over the years to ensure a brilliant set-up is achieved for every wedding and venue space, from incredible sound to amazing mood lighting. This has been in response to both his vast experience and the incredible feedback he has received which has resulted in two complete, exceptionally sharp and vibrant packages that encompass all elements to achieve a brilliant ambiance. Simply make an enquiry to receive an Event Kit which details the packages and prices

PROFESSIONAL DJ GEAR & SET-UP




This should be a given for every professional DJ, and for DJ Kwenda this is no exception. His DJ set-up is elegant and flawless and compliments every wedding and event space

INSURED & LICENSED




DJ Kwenda always holds current Public Liability Insurance and is nationally-licensed to play music in the public domain
Tillee Music Acoustic Artists
408828944
Ever walked into murmurs of polite conversation between a host of strangers in a too-quiet room? Maybe you noticed the space felt a little lifeless or even a bit… well… awkward… Here at Tillee Music, we believe that music has the power to change the world – or, at the very least, the atmosphere.
With over 15 years of experience as the soundtrack to romantic weddings and smooth corporate functions, let our signature acoustic sound give your event the life and soul it's begging for.
We'd love to hear from you.
Each of our musicians are carefully handpicked because their style and quality compliments what Tillee Music is all about. All of our musicians share a dedication to ensuring the music for your event is as personal and beautiful as you imagined it to be.
For the couple who wants to celebrate their love with music that's as unique as they are, we've created 'Your story, your song'.
Some couples know exactly what style of music they're after – and even have their own special song – while others are still searching for that elusive 'something' that speaks to the heart of who they are.
Let us help bring your story to life.
DJ Masters Melbourne 
401195858
DJ in Melbourne
Every event has the perfect soundtrack. Music is powerful. It defines any occasion, providing something beyond any other element of an event and its memories. That's why you're not leaving it to just anyone. DJ Masters brings you the finest DJs Melbourne has to offer, for every event. Our team of talented Melbourne-based Wedding DJs, Party DJs and Corporate DJs are committed to creating the celebration you have in mind.
Our premium Melbourne DJ service means your event is complete with a professional DJ, and entertainment designed for your event. Expect powerful equipment, wireless microphones, lighting, full control over music selections, and a professional MC service at no additional cost.
Your vision is important, that's why you have as much control over the music selections as you desire. Alternatively you can define the idea and feel you'd like to create, and we can create the ideal soundtrack for you.
Reading the crowd and closely following the mood of your guests to ensure everyone is up and celebrating, has been the key talent to our success and status across Melbourne. Fifteen years ago DJ Masters established a boutique professional DJ service in Melbourne, and is now resident to some of Melbourne's finest venues and event professionals. We are proud to have built an exceptional reputation as the reliable and professional Melbourne DJ and MC service.
Our mission is simple - to craft and deliver the perfect, unforgettable atmosphere for your event, with professionalism, experience, style, and the perfect soundtrack.
Professional DJs for Weddings in Melbourne
You've spent countless hours creating a date you'll remember forever. Let one of our experienced Melbourne Wedding DJs help bring it to life.
As Wedding DJs and MCs for literally thousands of unforgettable receptions across Melbourne over the years - weddings are our specialty.
It can be stressful organising the entertainment and sentimental elements of the big day. The little things make a big difference, and expectations are always high. DJ Masters brings you the finest Wedding DJs Melbourne has to offer. Our team of talented Melbourne-based Wedding DJs and MCs are committed to helping you create the vision you have in mind. Weddings are simply what we do best, making up 80% of our clients. Over the past 15 years in Melbourne our Wedding DJs and MCs have been a critical element in thousands of magical receptions.
Our premium Melbourne Wedding DJ service means your event is complete with a professional Wedding DJ, and professional wedding entertainment. You can expect superior equipment, lighting, wireless microphones, full control over music selections, and a professional Wedding MC Service at no additional cost.
We can provide wireless and portable music / PA equipment to DJ wedding ceremonies at unpowered locations, and can even help you compile and project slideshows / visual media you'd like at the reception.
Your vision is important, that's why you have as much control over the music selections as you desire. Alternatively you can define the idea and feel you'd like to create, and we can create the ideal soundtrack for you.
Reading the crowd and closely following the mood of your guests to ensure everyone is up and celebrating, has been the key talent to our success and status as the preferred Melbourne Wedding DJ service.
15 years ago DJ Masters established a boutique professional Wedding DJ service in Melbourne, and is now resident to some of Melbourne's finest wedding venues and wedding professionals. We are proud to have built an exceptional reputation as the reliable and professional Melbourne Wedding DJ and MC service.
Neon-Jam Wedding Band Melbourne 
437306428
Neon Jam is a dynamically versatile duo, specializing in wedding and corporate event entertainment. Consisting of Vocalist Crystal Hegedis and Guitarist/Vocalist Carlos Peregin, Neon Jam perform a vibrant selection of music ranging from upbeat popular hits to laid-back acoustic ballads.
With over 40 years combined experience, this duo seamlessly adapts to any situation thrown their way.
Whether you need guests kicking up their heals on the dance floor or a moresubdued ambience is preferred, Neon Jam is the duo for your occasion!
Benny Martin (Wedding & Event Pianist)
433217666
Benny Martin is a Melbourne professional pianist with over 5 years experience within the wedding industry and has played piano for more than 30 years.
Wedding Ceremony, Canapés & Receptions

Corporate events

Anniversaries (e.g. birthdays)

Special Events

Accompanist for singers.
Benny can also provide portable baby grand piano available in white to provide that 'wow' factor for your event (additional cost to hire).  With a wide and varied repertoire Benny can provide the perfect background to complement your event. To discuss how best he can meet your event please use the contact form for a no-obligation quotation. For Wedding bookings Benny will offer you a free pre-wedding music consultation, the music consultation will give you an opportunity to discuss what music you would like, and may provide an opportunity to hear Benny play some pieces that you may be considering.
Lily Road Wedding Band Melbourne 
401594986
WHAT IS LILY ROAD?
The Lily Road Band is one of Australia's BEST wedding bands comprising a group of select musicians. We pride ourselves on providing top quality wedding entertainment featuring beautiful music and energetic performances by seasoned professional musicians.
The Lily Road Band's broad musical repertoire allows it to tailor its song selection to its audience. We play the right songs at the appropriate time for weddings, festivals, private and corporate events. You'll find us performing all around Australia and Internationally, but you'll see us most often at our home bases in Sydney and Melbourne.
Classic & Modern Wedding Music to Suit Any Audience
Music is a big part of your wedding. It sets the mood with attendees and creates an ambiance. Our performers have a solid repertoire of classic and modern songs and years of experience in performing at live venues throughout Australia. To get the party started or sustain it long into the night, our wedding singers and bands are a cut above the rest. Take a look at some of our videos to see for yourself the quality of our singers and their extensive repertoire. We love to perform and it shows!.
From solo wedding singers to proper wedding music bands!
We can scale our offering depending on your needs — from a solo a singer-guitarist to a full five-piece wedding band depending on the size and acoustics of your wedding venue.
With many years of wedding entertainment experience, it goes without saying, your Lily Road Wedding Band will bring high quality sound and lighting equipment suited to the wedding venue. Our singers also ensure professional-grade microphones are available for you and your wedding party for use for speeches
Craig Francis Music Wedding DJ Melbourne 
403072105
WATCH SOME LIVE CLIPS
Achieving the perfect atmosphere is the key to your big night, so check out our LIVE VIDEOS and let us make sure that all you need to do is SING. DANCE. PARTY. REPEAT.
BOOK IN FOR OUR SHOWCASE
After a brief hiatus our LIVE GIGS are returning at the end of June with appropriate social distancing measures in place. We are also still offering our flexible date and deposit system so CONTACT US now to confirm our availability and discuss our booking and showcase options!
LIVE MUSIC DESIGNED FOR YOUR BIG DAY
Craig Francis Music is ready to create the night and the party that everyone will remember at your reception. Craig Francis Music is Melbourne's live wedding band and the wedding entertainment that everyone is dancing with.
Live. Tailored. Melbourne. YOU.
SPEAK WITH CRAIG
PROVIDING LIVE MUSIC AND ATMOSPHERE PERFECTLY TAILORED FOR YOU.
Experienced and contemporary, we boast unmatched versatility and some of Melbourne's best musicians, live entertainers, DJ and MC services, which means all you have to do is dance.
REVIEWS
QUESTIONS? WE CAN HELP
We will work with you to make sure that your reception is the one EVERYONE will be talking about! We deliver the perfectly tailored entertainment and great customer service that you deserve for your party and your guests.
Top-Notch Entertainment Melbourne 
417014173
About Top-Notch Entertainment Pty Ltd
About the Wedding DJ, Wedding MC and Guitarist
We specialise in providing professional entertainment solutions for weddings, schools, corporate and private functions.
If you need a Wedding DJ for your reception, a guitarist for your wedding ceremony or just a Professional MC to coordinate and run your reception, we've got the solution for you.
Acoustic Guitarist
Have a 'live' musician play at your wedding ceremony and/or pre-dinner drinks canapes. Create an atmosphere to remember with an acoustic guitar soloist.
 Music Selection
The music selection your Wedding DJ plays should allow guests of all ages to have an enjoyable evening. The DJ's role is to help the Bride & Groom celebrate the night of their life.
If you are having trouble choosing which songs to have played during the special moments at your reception, then I have listed some of the most popular wedding songs here.
 Cultural Music At Your Wedding Reception
If you have cultural music requirements for your wedding reception, then it's important that you find a professional Wedding DJ who is willing to meet your needs. For me—it's not a problem!! I have recently been the DJ for many different cultural receptions.
CHAS D Wedding Dj Melbourne 
359741161
How do you tell someone in a few words how much you love MUSIC. Thanks so much for checking out my website. Its so hard to share my Passion for what i do in a short paragraph, but music is my life, i pride myself in exceeding your expectations by providing you a music experience that you will always remember, and be always talked about. Your Event is My Event, it is treated as if it was my own, all of the finest details covered to ensure you the most amazing experience.  To Truly Create this each Function, Wedding, Party or Event, is completely Tailored to YOU!
One on One Time is so important, as this will allow your event to be UNIQUE, you will spend so much time in organising your special day, why should MUSIC be any Different !!!
I have a collection of about 50000 songs ranging from the 60's,70's,80's,90's,00's and up till 2019, and a unchallenged collection of house and RNB​
Its your night so i can read the crowd and free wing it or work with you on a playlist the suits both you and your guests, which can truly reflect your flavor 
i have an extensive traditional range of italian music perfect for italian traditional weddings and dances , other languages include spanish/latin and greek​. 
Music is my Passion and i am always looking for the freshest ways of making any style of music sound different. i can play ANYTHING, but i truely want to represent You on the NIGHT.
 Just Remember, HOW MUCH TIME, is your dj really putting into your Night,
We Dont just turn up and press play.
The Club Wedding Band Melbourne 
439343890
Welcome to The Club
The Club provides boutique musical entertainment solutions for weddings and functions in Australia and abroad. We are a tight-knit team of talented, young and professional creatives who love working together to produce unique, high quality experiences for our clients.
Live Band Entertainment
The Club Band is one of the most versatile and energetic bands in Melbourne, with the skill to provide appropriate music for any occasion and an unparalleled ability to engage audiences and create unique party experiences.
Event DJs
The Club DJs have the ability to fire up any dance floor, playing all the songs you and your guests want to hear and more!
String Quartet
The Club Strings are a highly experienced and professional string quartet whose musical presence is ideal for adding a touch of class to your wedding or function.
Lauren Schade Wedding Band Melbourne 
401960109
Music for your beautiful event!
Your beautiful event needs Lauren Schade on amazing lead vocals accompanied by the best musicians Melbourne has to offer. You can book Lauren with a vibing guitarist as a duo or a booty-shaking full band. It's up to you!
With more than 15 years in the music industry, the band's awesome vibe and sense of fun, is sure to have you and your guests grooving along and having a great time. Listen below on SoundCloud today!
Truly phenomenal, Lauren delivers buoyant, heartfelt covers of the biggest pop, soul, RnB and funk songs. An ensemble with a difference, they put their own characterful spin on the tracks and their jazz influences also peek through.
Creating a feel-good atmosphere wherever they perform, and always adapting to the vibe in the room, Lauren and her skilled friends are the live entertainment solution that would be PERFECT for you.
Play On Sound & Lighting Melbourne 
1300889172
DJs
We supply a personalised DJ service to accomodate your event, no matter the function or size. Our team is hard working and experienced, with regular performances around Melbourne and beyond. Fill out the form below and we'll get back to you with a quote as soon as possible.
SOUND
We offer exceptional quality sound at great prices and unwavering customer service. Browse our options below, but feel free to request anything and we'll aim to accommodate you and your audio needs.
Orlando Combo Melbourne 
410466439
About Orlando Combo
Please note, the Orlando Combo is an actual band and not a music agency or 'franchise'. We only take on one booking at a time. Some groups take multiple bookings for the same date all operating under the one band name, this is not how we operate.
Follow us on instagram.com/orlandocombo – Real instruments played live by highly skilled musicians – no electronics, samples, loops, backing tracks, drum machines or gadgetry.
From our compact acoustic Trio line-up for sophisticated background music through to our Quintet for lively Swing and Soul material, Orlando Combo can provide the genuine live Jazz experience for your venue or next event.
Orlando Combo first formed in 1996 when the members met at the Victorian College of the Arts (University of Melbourne) whilst completing a BA in music performance. Through the experience gained from over 2000 performances the Combo has gone on to become one of Melbourne's best working bands, offering professionalism, reliability and outstanding musicianship at a reasonable price.
Orlando Combo performs regularly at all major Melbourne events including; a tournament residency at the Australian Tennis Open (5 years), AFL Grand Final, Melbourne Cup Carnival at Flemington (12 years), Presidents Cup at Royal Melbourne Golf Club, Commonwealth Games, Australian Grand Prix, Melbourne Food And Wine Festival, Queen Victoria Night Market summer series (4 years), Melbourne Spring Fashion Week , Melbourne International Motor Show, Melbourne International Flower Show, AAMI Classic tennis tournament, Taste Of Melbourne Festival. Public venue residencies in Melbourne include; The Night Cat, Crown Casino, The Botanical Hotel Sth Yarra (8 year residency), Dizzy's Jazz Club, Portsea Hotel and Half Moon Hotel  Brighton. Corporate clients include BHP, Loreal, Ericsson, Ernst and Young, ANZ, CBA, NAB, Pfizer, Accenture, Telstra, GE, IBM, LendLease, PWC, Amcor etc. Private function venues include the Melbourne Club, Crown Casino, Government and Parliament House, The Arts Centre, NGV, Eureka 89 and Grand/Park Hyatt's. The group has also completed a six month performance contract at the Hotel Sofitel, Vietnam. Wedding performances are also a specialty.
The genre is Jazz but more specifically the sound is a special blend of Swing/Rhythm & Blues/Bossa Nova/Lounge/Motown/Boogaloo and Soul. Inspiration and repertoire comes from the swing of Louis Armstrong, the big band era and the roaring Jazz of the 1920's/'Great Gatsby' period, the cool sounds of Miles Davis, George Benson and the 'Blue Note' record label era, 'Great American Songbook' standards and show tunes of Frank Sinatra, Nat King Cole and Michael Buble', smooth bossa nova of Antonio Carlos Jobim, the old school Rhythm & Blues and retro Rock & Roll party starters of the 1950's and 60's by Ray Charles, Fats Domino, Elvis and Chuck Berry and the dance-floor soul and Motown classics and vintage party tunes of Van Morrison, Stevie Wonder, Marvin Gaye, Al Green and The Beatles etc.
Weddings by Orlando Combo
Please note, the Orlando Combo is an actual band and not a music agency or 'franchise'. We only take on one booking at a time. Some groups take multiple bookings for the same date all operating under the one band name, this is not how we operate.
Follow us on instagram.com/orlandocombo – Real instruments played live by highly skilled musicians – no electronics, samples, loops, backing tracks, drum machines or gadgetry.
Orlando Combo specializes in wedding performances with the experience we have gained from over 500 wedding bookings so far. By dealing directly with the bands manager (and therefore avoiding the additional 3rd party costs of a booking agency) our clients are able to receive the highest quality wedding entertainment at a reasonable price.
From our compact acoustic Trio line-up for sophisticated background music through to our Quintet for lively Swing and Soul dance material, Orlando Combo can provide the genuine live Jazz experience for your wedding.
Melbourne Mobile Music
412146644
About Melbourne Mobile Music / Steven Angelini
Melbourne Mobile Music has been looking after events for over 16 years.
Melbourne Mobile Music is a business owned and operated by Steven Angelini. Steven is a disc jockey and master of ceremonies with a positive and professional attitude. He has been a Disc Jockey for over 16 years and has been public speaking for nearly 16 years. He is an honest, reliable and friendly person who offers an exceptional service, always takes that extra step, to make sure everything goes according to plan and runs smoothly, no matter what.
With a vast number of years under his belt, a world of experience and over possibly 20,000 songs, he can tailor the music for the night to suit you requirements. Whether it be Rock and Roll, Soul, R&B, Hip Hop, 70's 80's & 90's and/or modern pop, funky house, trance, ballroom or romance, he'll play something to suit everyone and get everyone tapping to the music.
Melbourne Mobile Music prides itself on its services and operates solely on referrals. 90 per cent of bookings are from word of mouth and choose to provide a top quality service and depend on the highest level of customer satisfaction.
So please feel free to give Steven a call and catch up for a quick chat to understand your requirements.
A list of Melbourne venues that recommend me:
Potters

Lakeside Banquet & Convention Centre

Taylors Lakes Hotel/Starlight Centre

Inglewood Estate

Grand Star Convention Centre

Victoria Star Cruises (10 year contract – since 2011 for New Year's Eve)

Ultima Convention Centre

Eynesbury

Veneto Club
Your professional Disc Jockey and Master of Ceremonies
Specialist in Weddings, Parties, Formals, Corporate Events, Year-end Bashes and various other functions.
Full-time DJ and MC
Steven Angelini is a professional, fun-loving, reliable, full-time Dj and MC with over 16 years of experience.
English/Italian/Greek/Latin
We specialize in all genres of music and even have an unending list of Italian, Greek and Latin music to keep you dancing all night long.
Pick your own music
If you've never heard us perform, we can discuss your playlist for the occasion and you can even choose your own music.
FREE consultation
We can discuss your plans and order of events for the night over a free consultation, as we'd like to have everything run to perfection.
Professional Equipment
We only use professional audio equipment and cordless microphones to ensure the highest quality of sound for your occasion.
Add a Musician
You can add a Saxophonist to the music mix for the night, as an add on, to bring the LIVE factor to your event or occasion.
Playback Wedding Dj Melbourne 
412406431
About Us
For over 10 years, Playback have been entertaining crowds with their mix of classic tunes from the 70s, 80s, 90s and 00s - from Top 40 pop and dance tracks to good old fashioned Aussie Rock....and everything in between!
As friendly, seasoned specialists in weddings and corporate events, Playback can also help you to plan your special night with consultations on everything from the music you choose, right down to the order of events. Their uncanny ability to tailor their performance to your needs has made them one of the most highly rated wedding and corporate bands in Melbourne! 
Booking an Event?
We can help make it easy with packages including acoustic sets, full band performances, MC services, production equipment (including wireless microphones for speeches), tailored background music, and even DJ-style music sets to keep your guests dancing while the band takes a break. Make an enquiry today to see how Playback can make your event a night that keeps people talking for years to come!
Versatility, Flexibility, and Possibility!
No matter where you're holding your event, we have a set up that will fit - without the need to compromise on the overall experience. Whether you're looking to wow hundreds of guests with a full band on a large stage, or you just want something chilled and intimate in a cosy setting - Playback will have a package to suit your needs. Make an enquiry to find out more.
Second Floor Wedding Band Melbourne 
401883348
Second Floor is a Melbourne wedding music and function band born out of the idea that there's groove, funk, and soul to be found in all Pop music Boasting an impressive 4-piece lineup (male lead vocals + guitar, keys, bass, and drums), they are committed to keeping the dance floor packed and energised with an upbeat repertoire of contemporary and classic pop jams. Experienced and professional, they bring equal parts sophistication and liveliness to any event. If you're looking for a young, exciting, and non-stop party, look no further than Second Floor.
Weddings
Your special day is special for us. We are committed to providing wedding music and entertainment that ensures your day runs as smoothly as possible, and that we drive the atmosphere of your wedding to ensure everyone leaves with a smile. We offer the following.
Wedding music features
Affordablility
We aim to ensure that you do not stress over the price of your entertainment. We provide a high quality service at an affordable price; we're not the only supplier you need to book. We want to ensure your day is enjoyable, and we are happy to be a part of it.
Experience
We feature members who have played as part of leading wedding band agencies in Victoria, as well as musicians who play at corporate bands and other original projects. We bring a lot of musical experience to the table, as well as experience when it comes to servicing a full wedding.
Presence
We will not let anyone stay seated. We play classic and modern pop tunes in a funk/soul vibe that everyone can enjoy. We keep our sets packed with back to back songs that are widely identifiable and instantly danceable. We monitor the crowd to see how we can make sure they are enjoying themselves.
Personality
We created our band because we love playing our set list together. We genuinely enjoy our songs and we show it. We will bring a huge amount of energy and enjoyment to your wedding from the beginning and we believe that energy is infectious.
Rich & Harry Wedding Band Melbourne 
Richandharrymusic.com
407054111
About Us:
With over 30 years experience and hundreds of gigs between them Rich and Harry can cater to any size and style of event. Rich's versatility and power as a vocalist combined with Harry's multi instrumental looping make for a dynamic duo.
At every performance Rich and Harry can provide:
- State of the art Sound Systems.
- Beautiful acoustic sets, Live looping sets that sound like a full band, Professional DJ sets.
-Battery powered equipment; No Power? No Problem!
-Stage/Dance floor lighting.
Sincock Piping Wedding Band Mebourne
410146110
Sincock
Piping
I started learning the bagpipes through Scotch College at the age of 12. I compete professionally in A Grade solos and Grade 1 band competition. 
As a former Australian, Victorian and New Zealand Pipe Band Champion, I now teach bagpipes at Scotch College Melbourne, Geelong Grammar School and I teach though Sincockpiping privately.  
"My goal is to teach young students so that they can reach a high standard of piping and gain opportunities to play in bands in Victoria, and even travel interstate and overseas to compete with other bands of different levels."
Learning the bagpipes is a great way to meet lots of new people, to network and gain lots of connections, which may lead to great opportunities in the future.
"I enjoy teaching as I am able to pass on what I have learnt over the years to others, and I hope to inspire them to follow their piping to great lengths. It is also encouraging when I get to see my students progress and be motivated to push themselves to succeed."
Having Bagpipes at events such as weddings is a wonderful choice, as it creates an atmosphere of excitement and joy, which will be remembered by the bride and groom and the families that are involved, for the rest of their lives
Sarah C Wedding Band Melbourne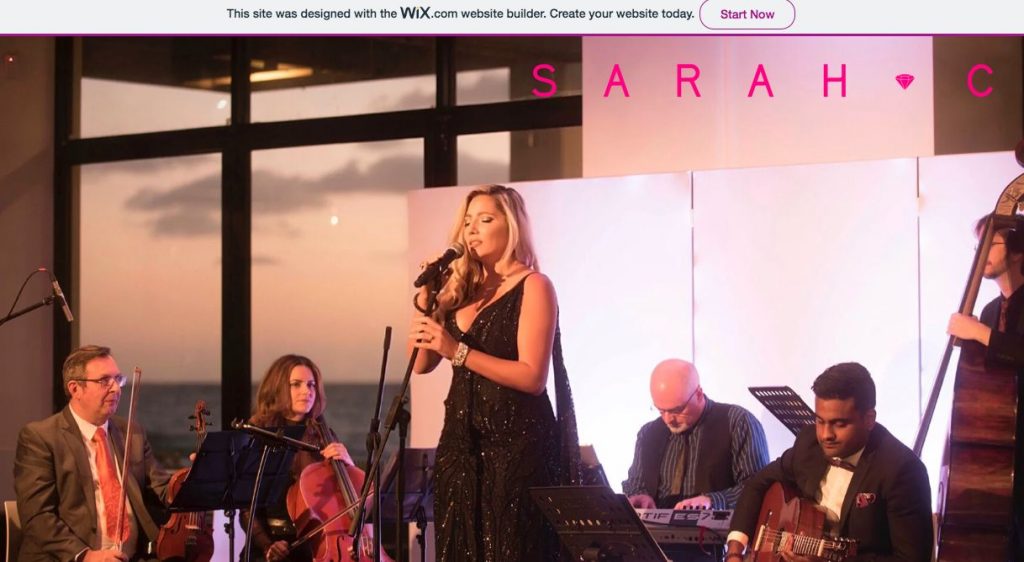 415576858
Melbourne Singer Songwriter Sarah C possesses a combination of dynamite energy and an extremely unique, powerful and soulful voice. Its no wonder she has rapidly earned the reputation as "Melbourne Soul Diva".  As a seasoned performer, her versatility and range has led her to working with some of the biggest names in the business such as Kylie Minogue, Jessica Mauboy, Daryl Braithwaite Anthony Callea, Tim Campbell, James Reyne, Carrie Bickmore and recently Sarah had the exclusive honour of performing for Hollywood Royalty and Oscar Winners Goldie Hawn and Susan Sarandon.
She has just released her debut EP "Fearless" which debuted at number three on the Australian R&B/Soul Charts, "Fearless" showcases Sarah's voice that stands as the central "instrument" and the most stirring element of this collection of Pop/R&B all-original tunes.  Sarah will embark on live concert dates throughout Australia featuring her brilliant live band and will then make her way to the USA in the summer and reach the shores of Europe by the end of the year. Sarah says of the EP, "Fearless" is about going through the hardest of life's experiences, acknowledging that you are not perfect but coming out the other side a stronger, wiser version of yourself. Each song is very personal to me; they are my perspective on life, love and other stories and they all have their own unique message."
Mark Matthews Wedding DJ Melbourne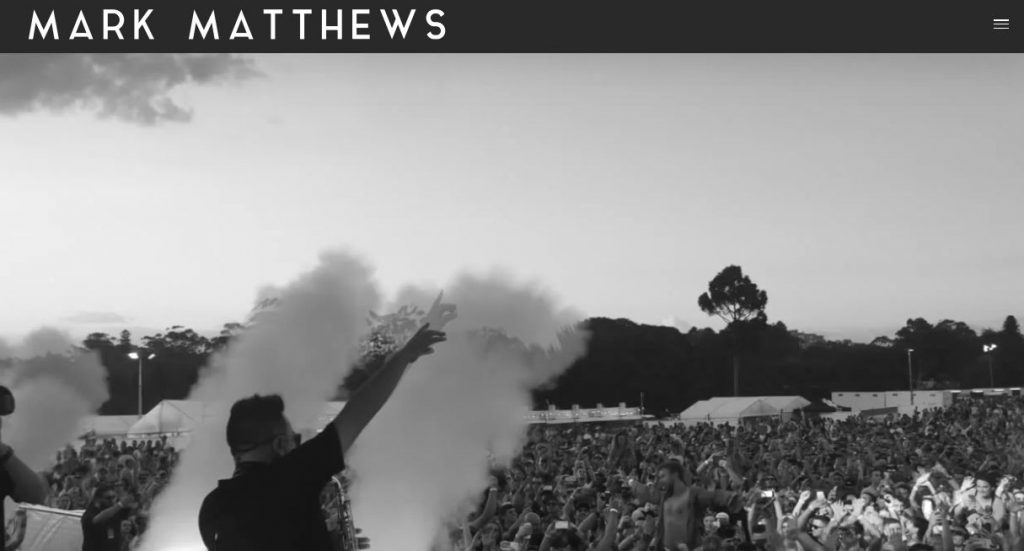 Upon Request
MARK MATTHEWS is a trusted and respected name in the music industry. In the last 6 years he has evolved from professional saxophonist with 25 years performance experience to a class-leading entertainer, utilising his skills on the saxophone and as a DJ to create one unique and dynamic act. Mark is a fresh, innovative approach to live music and DJing – what you see at his show is so much more than just pressing play.
Mark maintains a simple yet effective ethos; music can bring people together. Whether it's a feature for your event or the subtle nuance of music in the background to help the flow – the importance of music to add mood, style, motivation or sensation is essential to bringing people together for your event and cannot be left to chance. Mark brings the utmost professionalism, great track selections, seamless changes, uplifting moments and lasting memories – he tackles these challenges with experience and class. Mark Matthews is an assured choice that will deliver you outstanding results for your next event.
BRINGING YOU YEARS OF ENTERTAINMENT EXPERIENCE TO WEDDINGS
One of the most overlooked elements for a wedding is the importance of entertainment. As it is important to choose the right venue, the right caterer, the right floral designer, it is just as important to choose an artist to perform at your wedding that will give you the personalised experience you deserve on your special day.
Mark's DJ & Saxophone performances services Weddings all year round, all over Australia, with hotspots in the Southern Highlands of NSW, the South Coast and the Hunter Valley Region.
ONE UNIQUE,
BESPOKE PACKAGE
There is only one package – Mark Matthews. The package Mark Matthews offers starts at the first hello to the last goodbye. Think of him as your wedding music planner, everything is covered – communication, logistics, sound & lighting, and of course great entertainment.
PERSONALISED PLAYLISTS & MUSIC EDITING
Mark will work with you to develop the style you want on your night. No matter how specific or vague you want your music selection, Mark's music selection experience will ensure the music is right for your wedding.
Do you have something in mind for your first dance or wedding entrance? As a music producer he is able to cut and edit music to make a unique tailored track for your special moment – inquire for more details.
ALL WEDDINGS, FROM INTIMATE TO GALA-EVENTS
Mark has played them all, and when events get big Mark's team of suppliers will make sure any event can be covered.
ADDING MORE ARTISTS TO THE SHOW
Sometimes DJ & Sax just isn't enough! Mark works with many of Australia's talented artists. Vocalists, percussionists, guitarists, horn players, pianists, string quartets – any kind of musician – Mark can help find you the right fit to make your wedding exactly the way you want it.
Groove Junction Entertainment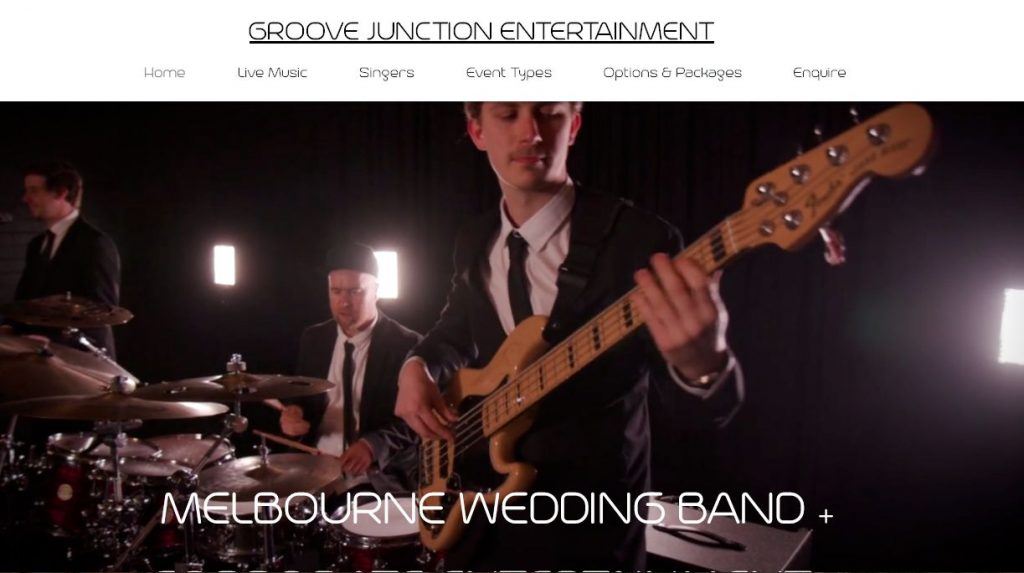 Groovejunctionentertainment.com.au
424257283
MELBOURNE'S PREMIER CORPORATE + WEDDING BAND HIRE
Groove Junction Entertainment offers live music entertainment services by the finest musicians performing in Melbourne, Victoria and Australia wide. Specialising in Corporate Events, Wedding Entertainment and Private Parties, our live band will take your event to the next level.
​Providing a first-class entertainment experience, our wedding bands are available in a 3-10 piece band format.  We also offer acoustic duos, solo performers and DJ services.
Enquire now to find out why Groove Junction is one of Melbourne's most popular cover bands for functions and weddings!
EVENT TYPES
Wedding Entertainment
Our live wedding band will create the perfect wedding music for your big day. From the ceremony to the reception, our Live Music Packages will make your wedding memorable.
Our live wedding band will create the perfect wedding entertainment for your big day.
LIVE MUSIC
Accoustic Duo
Ideal for an intimate wedding or event, our acoustic duo  offers live music with acoustic guitar, piano & smooth vocals.
DJ Hire
Our DJ Band combines live instruments, vocalists & DJ mixing and packs the dance floor at parties & events
GROOVE JUNCTION SOCIAL FEED
Cover Band
Our talented 4-10 piece party band is perfect for show-stopping, Event & Corporate Entertainment to impress.
Wedding Band
Our experienced wedding musicians offer elegant and lively music options from the ceremony to the dance floor.
Melbourne Belly Dance
Melbournebellydance.com
403686131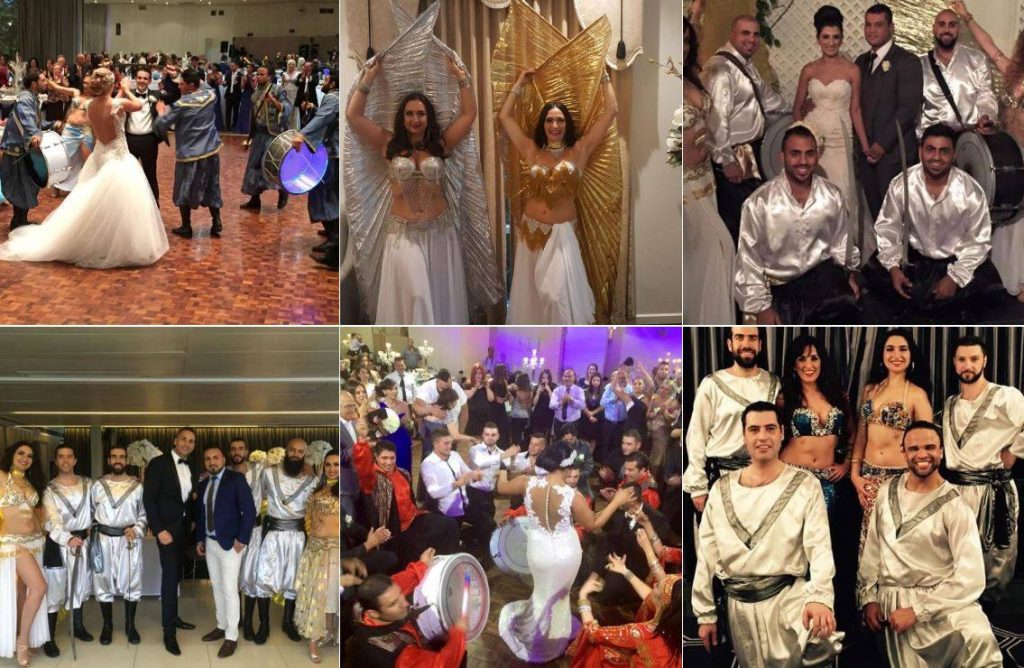 DIRECTOR - JOSIE PALERMO
Director Josie Palermo has had over 2 decades of local and international experience in middle eastern dance and is proud to work with the best dancers and musicians in Melbourne.​ Josie has conducted classes and various short term workshops in Arabic dance in Melbourne and Regional Victoria for many years. She has been performing Arabic dance (both Cabaret and folk) for 10 years. Her credits include television appearances; Sale of the Century (GTV 9), Red Light in Full Flight (SBS), Denise Show (7 network) and Ocean Girl (Jonathon Shift Productions),
Jimmy Christo music video, and major festivals and events including the Melbourne Food and Wine Festival, Moomba, Melbourne Fringe and Melbourne Arts Festival and the Lebanese Festival. Josie is a very busy and popular performer, performing regularly in Melbournes finest restaurants, hotels and reception centres.
Josie has conducted courses for people at all levels of Middle Eastern Dance, Seventh Veil, Hawthorn and Hip to Hip Dance Studio, Richmond. Josie also conducts speciality workshops for advanced students featuring sword and veil work, as well as holding courses and workshops for intellectually disabled clients, Helping Hand Association, Coburg.
All our dancers are internationally trained and have worked in 100s of shows wowing audiences and providing the ultimate in family entertainment. We also collaborate with talented world music band Jadida  and the best drummers and only dabke group in Melbourne, The Lebanese Dancers for Peace with Audi Younes Platinum events and Productions.
As part of its mission to create high quality and culturally authentic middle eastern performance experiences for a range of audiences and clients, Melbourne Bellydance is also proud to offer classes and workshops through our school, Hip to Hip. You can also follow Hip to Hip on Facebook.
JOSIES PHILOSPOPHY ON MIDDLE EASTERN DANCE
Middle Eastern dance is an art form that evokes the cultural context within which it was developed. It is fundamentally linked to the emotional expectations of the audience that views it - the dancer becomes a vessel for the expression of emotions that are often suppressed, inaccessible and transient. For a dancer like myself, who is Australian born of Italian immigrants, to learn the dance is
to learn the culture, and to interpret that through my own ethnicity as best as I can. What emerges is a style that I am still developing that brings what I know to what I know about Middle Eastern dance. I embellish the movements to embrace a western theatrical style, which leans towards Danse Orientale. The music I use ranges from traditional Arabic songs to the new pop fads sweeping Lebanon today. My movements range from traditional taqsuim to the painful straining of a beautiful nay to aggressive African pelvic movements to the beat of a darbuka.
MELBOURNE'S BEST BELLY DANCERS
INTERNATIONALLY EXPERIENCEDCHARISMATIC - BEAUTIFUL - JOYFUL
FEATURED ON AUSTRALIAN TV, BRITISH TV AND BOOKED OUT ON EVERY WEEKEND OF THE YEAR
Melbourne Belly Dance
​We have hand picked the best Belly dancers in Melbourne. Our dancers are culturally authentic, with many years of training in Egypt, Lebanon and Turkey behind them. We are able to perform culturally specific dance styles with the appropriate types of costuming for community events.
Our dancers have been featured on Australian TV, British TV, they have competed in international Belly dance titles and know how to wow your audience.
We work with the best drummers and dancers in Melbourne. If you are looking to hire belly dancers and drummers for your event, then we can create the perfect package for you. Hire a professional Belly dancer for your party today!
Belly dance party performance: 15-20 mins
This performance suits smaller venues and comprises an entrance piece with veil, a drum solo, isis wings and upbeat music to get your guests up and dancing. The most popular show for its flexibility for a variety of events. Josie can perform with props such as veil and mesmerise your audience, getting them up to dance and really getting the party started. Perfect for private parties, birthdays, restaurants or dinners at home.
Classic belly dance show: 30 mins
Perfect for larger venues, weddings or audiences who love to dance. You will receive a dramatic entrance piece with Veil, Isis Wings (pictured to the left) or zills (finger cymbals). You will have a traditional cabaret piece, a drum solo and interactive roving style performance. It will end with upbeat music to get your guests up and celebrating. What a beautiful way to get everyone up and dancing!
Drummers can be included if required.
Group Belly dance floor show
Double the fun and treat yourself to two or more gorgeous Belly dancers for a fully choreographed show to wow your audience. Shows comprise of a dramatic entrance piece with veil, a sword balancing act where the dancers balance swords on their heads, and then a drum solo. Audiences will then be asked onto the dancefloor, or dancers can rove the audience to entertain.
This show is perfect for weddings and large events. Veil, zills (finger cymbals), Isis wings and Shamadan can all be used to make the performances even more memorable. Josie and her dancers source all their costumes from designers in Egypt, so you will be treated to stunning costumes as well.
This option is also available as a wedding entrance (zaffe, zaffa) and classic bellydance show.
Drummers can be added to add an extra dimension and add atmosphere.
Dj Nige. Wedding DJ Melbourne
Djnigeandkombi.com
418343077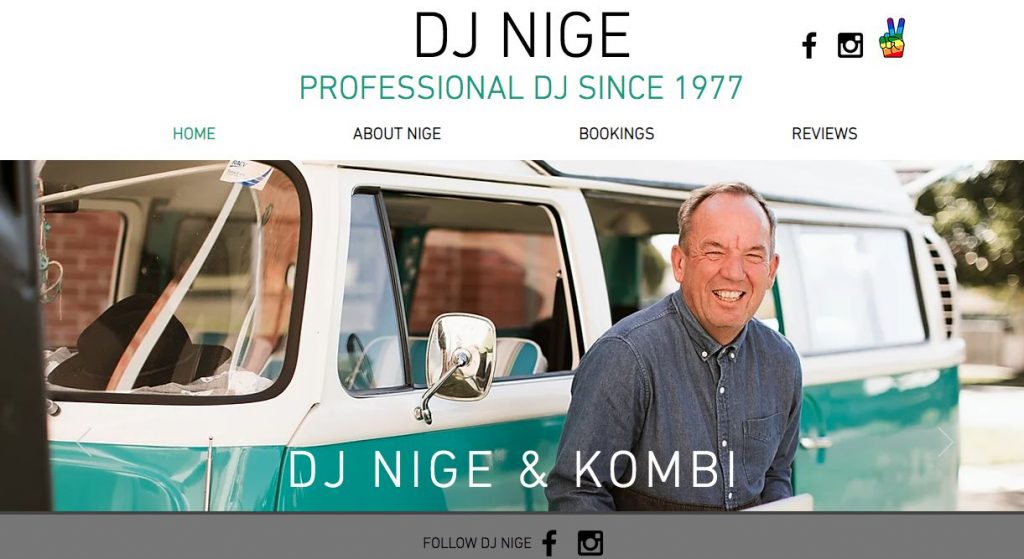 From vinyl to CD to digital, Nigel Beck has DJ'd for the people of Victoria and NSW since 1977.
DJ Nige can be booked solo or with his Kombi 'Deirdre' or Vespa 'Audrey'. Both Deirdre and Audrey's PA equipment is battery/solar powered giving you location flexibility.
Something Borrowed Duo
Sbduo.com
424517414
Make your day even more memorable
With countless Weddings under our belt and hundreds of songs to choose from,
we can cater to all sizes and styles of weddings.
Something Borrowed offer exceptional music entertainment for weddings, functions and special events throughout Melbourne and surrounding areas. On occasion, we also provide entertainment to other states and regularly perform in Tasmania, Sydney, QLD and Adelaide.
Having performed together for over 10 years, Adam and Brendan have a wealth of experience that helps to ensure everything runs perfectly on the day for you.
Something Borrowed offer a broad range of musical styles so whether it's a corporate function, a wedding reception or a roaring party, they have the skills, equipment and repertoire  to make the event a massive hit.
Playing a variety of acoustic only sets, through to full band sounding sets, you get the right music at the right time.
We set the scene early by playing a few choice songs as guests arrive for the ceremony. Then,… the moment has arrived. You walk down the aisle to our beautiful arrangement of your song. Whatever that may be. It's your choice. We then play during the signing of the registry and as you leave the altar as Mr & Mrs.
We are extremely flexible and will work with you to make your day perfect. The reception is generally 4 x 45-minute sets. In 90% of cases, we play 2 x acoustic sets while guests are eating entrees and mains, then we kick it into top gear with the full band sound once all the formalities are out the way.
If you are providing canapés for your guests prior to the official reception, we can certainly play the first acoustic set at that time if you would prefer. Again, the choice is yours. The bottom line –  it is your day! There is no right or wrong way to run it. Your way IS the right way. You just tell us exactly what you want and we are good to go.
What makes us different?
We can learn any song you would like to walk down the aisle to. Not on our list? No problem!
We have the flexibility to play both acoustic ceremonies and full band sound receptions. A one-stop shop!
We have been performing together for over a decade. We know what songs to play and when to play them.
We have the equipment to play Indoor or Outdoor ceremonies. No power, no problem!
We can play anything from small intimate functions to events with hundreds of people.
We understand it is YOUR day. We fit around the events of the evening, not the other way around.
Theknave.net
Upon request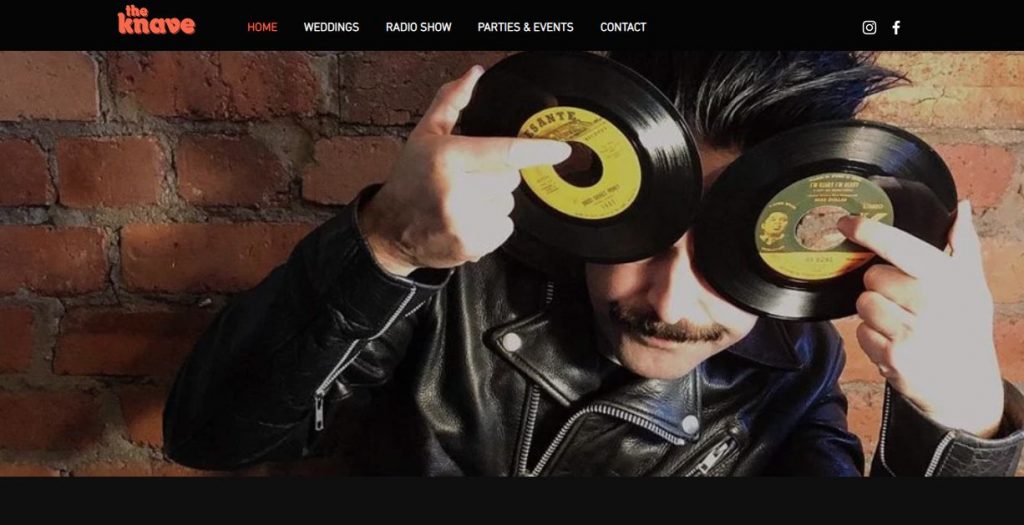 Melbourne DJ & Entertainer, Radio Show Host & Performance Artist.
From festivals to cocktail lounges, The Knave does it all!
The Knave's career has seen him perform events, festivals and travel internationally. He's an avid vinyl collector, musician and host of the "Five Miles To Midnight" radio show on WFMU. He's previously been an announcer on PBS 106.7FM and Radio Active, and frequently performs around Melbourne. He is leader of The Elvis Big Band and runs an Elvis Telegram Service too.
WEDDINGS
The Knave is available for hire and is a highly popular Melbourne Wedding DJ & MC! Playing great & groovy tunes that are tailored to you, he's the DJ with a difference!
Click here for more info and to hear mixes.
RADIO SHOW
Broadcasting live from Melbourne, Australia to WFMU's Give The Drummer Radio Stream in the USA and the world beyond - DJ Knave hosts a radio show that's a musical rollercoaster not to be missed.
PARTIES & EVENTS
Dishing up a wide array of music, The Knave's versatility has him booked as a party DJ at range of venues, festivals and both private and corporate events. Hear mixes and find out about his themed character DJ's!
Large festival
ELVIS BIG BAND
The Knave also performs in and heads The Elvis Big Band -  Melbourne's live 14 piece Elvis experience featuring some of Australia's finest musical talent.
Elvis is available for appearances, weddings, events and personalised video telegrams!
Midnight DJs Melbourne
Midnightdjs.com.au
411569505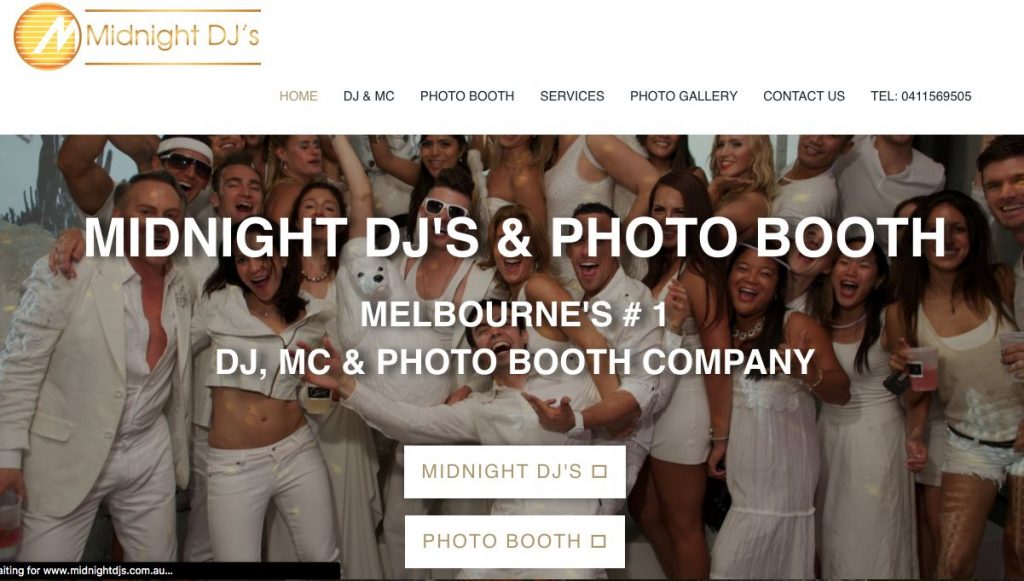 WE'VE BEEN GIVING COUPLES THEIR DREAM WEDDING ENTERTAINMENT SINCE 1995... NOW IT'S YOUR TURN!
Voted Melbourne's # 1 DJ, MC & Photo Booth Company by Wedding Couples. Midnight DJ's & Photo Booth are the premium choice for your next event. They bring a wealth of knowledge and experience to your function no matter how big or small. Entertainment at any event is crucial as it will either make or break your event. Don't risk your special day and be stressed throughout the organisation process. Let Midnight DJ's assist you in organising your next event and they'll also manage the entire night making sure everything runs smoothly like clock work exactly how you imagined it to be. Call now for a friendly chat or a meeting over coffee. "Let us show you how we can make your next event a great success".
Midnight DJ's is a professional wedding and events company servicing Melbourne and all states in Australia since 1995. Owned and operated by the award winning DJ Nader Elalfy who is considered one of the leading wedding & events professionals in Australia – promises to provide a high end quality entertainment and customised event planning to your exact specifications.
Whether it's conducting the reception for your dream wedding, or planning the perfect corporate event, Midnight DJ's will take the extra time required to go over every detail of your event with you exceeding your expectations. Midnight DJ's has one simple goal … Make sure everyone has a great time on the dance floor and lots of memories to take home!They create this feeling by coordinating your day with you by offering just the right blend of leadership, communication and experience, resulting in a momentous occasion for all with simply great entertainment.
Midnight DJ's has entertained over 10,000 clients to date. Not only here in Melbourne and Australia wide but also in the following countries…Singapore, Honk Kong, Japan, Dubai, Egypt & Paris – France.
Midnight DJ's is a team of 5 talented DJ's. The all have been with DJ Nader for over 10 years which tells you something about Nader & his outstanding company. As the owner of Midnight DJ's, puts his heart and soul into every function he does. With experience that surpasses that of most wedding & event professionals, who better to coordinate your special occasion? You can be assured of complete success.
"I welcome you to experience the quality and professionalism of Midnight DJ's. Our attention to detail, vocal clarity and music selection will leave you and your loving guests with lasting memories" DJ-MC Nader"
WEDDINGS
Melbourne's top choice for your forthcoming wedding. Elegance, class, fun and laughter is what your guests can expect with lasting memories. We are not just DJ's we offer so much more without you paying more.
CORPORATE
No room for second best or mistakes. Hire the very best in the industry who understand corporate event needs. Let us be your assistant in organising your next event so you can work on what you do and have fun on the night.
ANYTHING GOES
We cater for events of all types . . . Wedding Photo Booth Hire, Bar Mitzvahs / Bat Mitzvahs, Company Staff Parties, Birthday Parties, Awards Nights
Anniversary Celebrations, End of Year Functions and  Christmas Parties
Matt Jefferies Entertainment
Mattjefferiesentertainment.com.au
411587506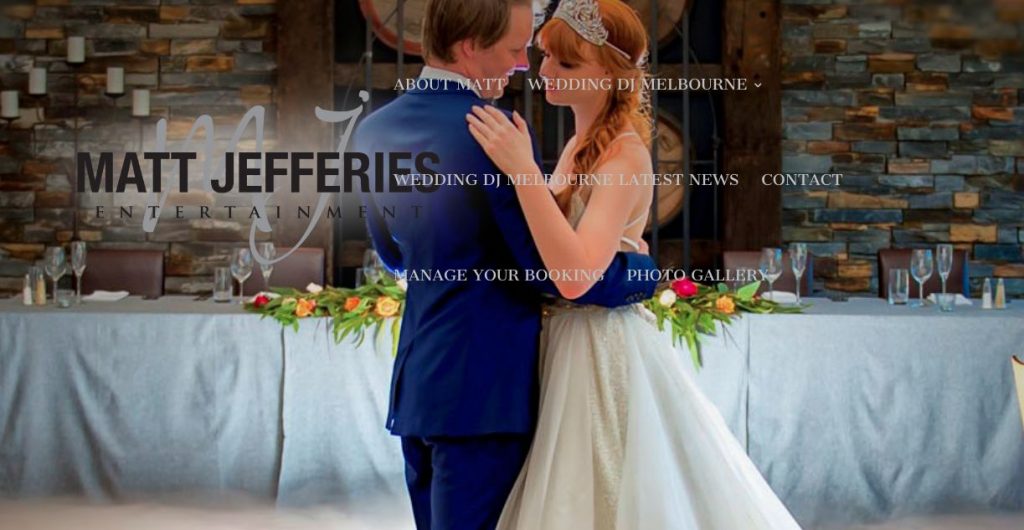 Matt Jefferies is one of Melbourne's most sought-after Wedding DJs, and has been providing couples with personalised DJ and MC services all over Melbourne for over 10 years.
We all know that dream weddings happen with careful planning and a great service team, and Matt Jefferies understands this.
On your Wedding DJ Melbourne journey with Matt Jefferies, he will work with you to design a unique, exciting and magical entertainment package – an unforgettable experience that reflects your style and personality.  With the main focus on enjoyment and making beautiful memories, Matt brings his passion for connecting people through music and fun, and combines it with skilled professionalism!  Your wedding day entertainment is Matt's number one focus.  As he commits to only one wedding per day, you won't find your Wedding DJ Melbourne rushing to or from another event.  He is also a solo operator, so you can guarantee that the person you plan your event entertainment with is the person you get on the day!
Matt Jefferies believes that every couple is unique, and should have a wedding day that reflects their journey.  To achieve this, your first consultation with Matt is free of charge.  Let Matt Jefferies give your special day the attention it deserves, and give your guests an experience they will be talking about for years to come!
Entertainment Services
Matt Jefferies is one of Melbourne's most sought-after Wedding DJs, and has been providing couples with personalised DJ and MC services all over Melbourne for over 10 years.
We all know that dream weddings happen with careful planning and a great service team, and Matt Jefferies understands this.
On your Wedding DJ Melbourne journey with Matt Jefferies, he will work with you to design a unique, exciting and magical entertainment package – an unforgettable experience that reflects your style and personality.  With the main focus on enjoyment and making beautiful memories, Matt brings his passion for connecting people through music and fun, and combines it with skilled professionalism!  Your wedding day entertainment is Matt's number one focus.  As he commits to only one wedding per day, you won't find your Wedding DJ Melbourne rushing to or from another event.  He is also a solo operator, so you can guarantee that the person you plan your event entertainment with is the person you get on the day!
Matt Jefferies believes that every couple is unique, and should have a wedding day that reflects their journey.  To achieve this, your first consultation with Matt is free of charge.  Let Matt Jefferies give your special day the attention it deserves, and give your guests an experience they will be talking about for years to come!
Entertainment Services
WEDDING DJ SERVICES
A great Wedding DJ can be the difference between a pumping dance floor or a dance floor desert. With many years of Wedding entertainment experience, Matt has crowd reading down to a fine art that will make your celebrations and dance floor jump!
MC SERVICES
As an experienced event and corporate MC, Matt can represent your event and portray the image that you want to convey. From introducing speakers to announcing awards, Matt can create the right tone and mood for a successful event.
DANCING ON A CLOUD
Dancing on a cloud effect is fog that hovers along the ground making it look like you are dancing on a cloud. Commonly used for first dances, but can also be used for father – daughter dances, mother – son dances or even grand entrances.
PHOTO MOSAIC WALL
Create stunning photo mosaics from your special event in real time! Our state of the art software allows you to capture your event in an unique and unforgettable way
Sanctuary String Quartet
Sanctuarystringquartet.com
417768777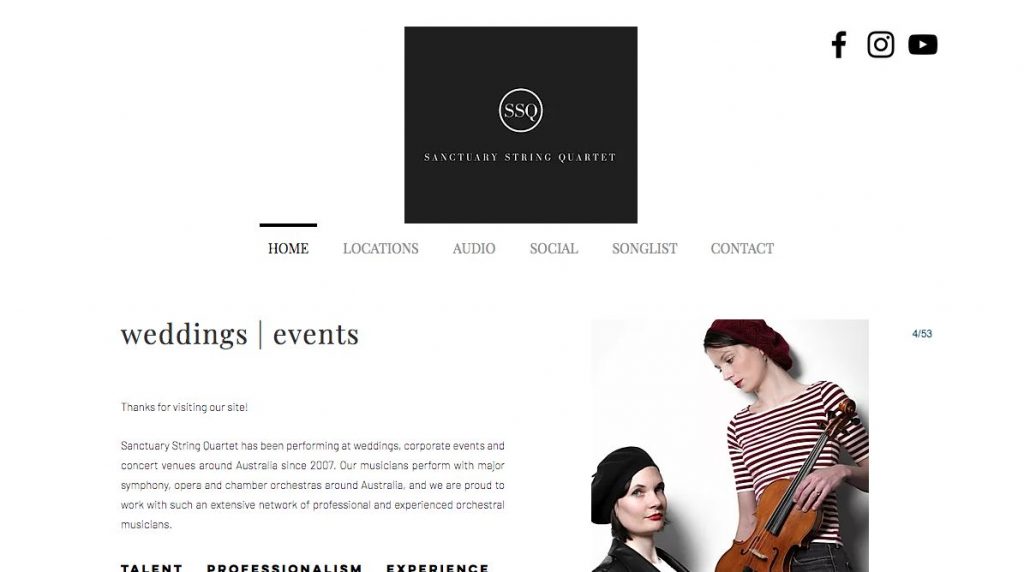 Weddings | Events
Thanks for visiting our site!
Sanctuary String Quartet has been performing at weddings, corporate events and concert venues around Australia since 2007. Our musicians perform with major symphony, opera and chamber orchestras around Australia, and we are proud to work with such an extensive network of professional and experienced orchestral musicians.
​TALENT    PROFESSIONALISM    EXPERIENCE
​Owners Dan (violin) and Ely (cello) are session musicians in demand around Australia, performing with the Queensland Symphony Orchestra, the Opera Australia Orchestra and the Australian Session Orchestra which they founded in 2016. They have toured extensively and have been involved in major cultural events in Papua New Guinea.
ONLY DJ'S Wedding Dj Melbourne
Onlydjsmelbourne.com.au
424865326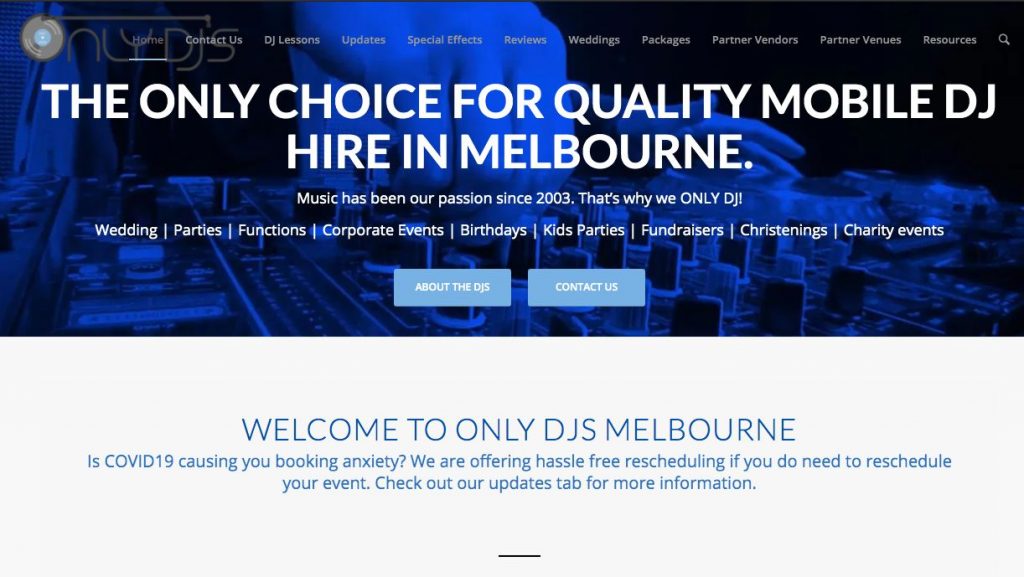 DJ J'ELLIS (JAMES ELLIS)
Since 2003 J'ellis has had a most noteworthy career in the music industry to this date. His love and passion for music, mixing and being able to do what he loves is his main strengths. He has been privileged to be a supporting artist to a number of DJ's listed in DJ magazines top 100. J'ellis has been a DJ in Melbourne for over 16 years nationally and internationally.
James has mastered the art of mixing over the years and will tease your guests during main sets with RnB bassline drops during a chorus of another song so that your guests get a tease of what is coming next. He has mastered a number of styles of mixing and is the best mobile DJ for hire for your event!
James got into DJing by following his heart at the age of 16. He is publishing a book this year about his career. There were a number of factors that lead to him getting into DJing. Find out more with the launch of his book and watching his Instagram stories and YouTube videos.
He has had the pleasure of having worked on Mix FM Cyprus, Storm Radio Greece, and frequent guest slots on Kiss FM 89.3, prior to its closure. He specialises in house, Rnb, Rock, 90's & 80's music and has a collection of over 90,000 songs at his disposal ranging from Alternative to Zeibekiko. J'ellis has worked extensively in the Greek music industry in Melbourne as a Greek mobile DJ for hire and worked alongside Georgie T with Greek mix productions and Tropical Sound waves. J'ellis has performed at a number of Greek functions and has been a Greek wedding DJ.
MOBILE DJ HIRE IN MELBOURNE
Mobile DJ hire in Melbourne
Music is our passion!
For Only DJ's Melbourne there is one thing that needs to be at every event, a passion for music. Our philosophy at Only DJ's is that our job is to be the best mobile DJ for hire in Melbourne, whether that is an RnB DJ, House DJ, Club DJ or a Rock DJ we will have you covered with our impressive music collection. James has passed on his years of experience to all his DJ's and now they are regarded as some of Melbournes best RnB DJ, House DJ, or Rock DJ's for hire in Melbourne.
If you would like to see why we are some of the best RnB or House DJ's for hire in Melbourne go to our SoundCloud page.
Check out our Instagram page for some great Pre-gig videos and photos of us doing what we do best!
WEDDING DJ MC HIRE IN MELBOURNE
At Only DJs, we pride ourselves on being the best wedding Dj MC hire packages in Melbourne. Our Google reviews back these claims. All of our wedding DJ's are highly experienced and have performed for over 1000 events since we first started in 2003.
Our philosophy for every wedding DJ MC hire is that we are there for you. It is your special day and we will do whatever you need to make sure your day flows smoothly and is amazing. Our job is to work off your music preferences and play other songs that may compliment them.
Our comprehensive runsheet/checklist will make planning your wedding DJ hire simple and easy. Our all inclusive yet simple checklist covers all the traditional activities that take place throughout your wedding reception. This makes planning and coordinating your wedding easy.
Whether we are MCing or you have an MC, our checklist will ensure that everyone is informed prior to any activity that is taking place. Request a quote with us now to get a copy and to find out why we are Melbourne's best wedding DJ's.
Why choose Only DJ's for your Wedding DJ hire?
You will be booking Melbourne's best wedding DJ's.
When you book your Wedding DJ, you will receive a complimentary event planning concierge service.You get one meet and greet with the business owner and head DJ.
We offer flexible payment plans with no setup fees! We will answer your emails or calls within 2 hours guaranteed.
You get the best all in one wedding DJ hire package in Melbourne, we include everything you need.
We have live tracking so you will know our ETA and see exactly where we are on the day.
Every console we use is made up of the same speakers, lights and music collection.
We have onsite downloading for last-minute requests.
We have a collection of 90,000 songs.
Light MC duties are included.
Get free set up with every booking.
Unlimited email & phone call support.
Why is a wedding DJ a better option than a band?
A wedding DJ has access to thousands of songs and can easily play any song title the couple or guests wish for.
Wedding DJ's do not take breaks and can play for the length of the reception without any interruption.
Wedding DJ's are thousands of dollars cheaper than the alternative option.
Wedding DJ's can provide you with professional-grade lighting fixtures and many other add-ons that you might require. You will not have to contact multiple vendors to get what is needed.
A wedding DJ doesn't require a large area to set up.
It is important to remember that your wedding DJ MC has a major responsibility to structure your wedding reception to meet the timeframe of your run sheet. We will work with you, your videographers, the venue, photographers, your MC and everyone else in between to make sure everything stays on time. We are up to the task and will work hard to make things run as smoothly as possible.
Jade Entertainment Company Melbourne
Jadeentertainmentco.com
402213123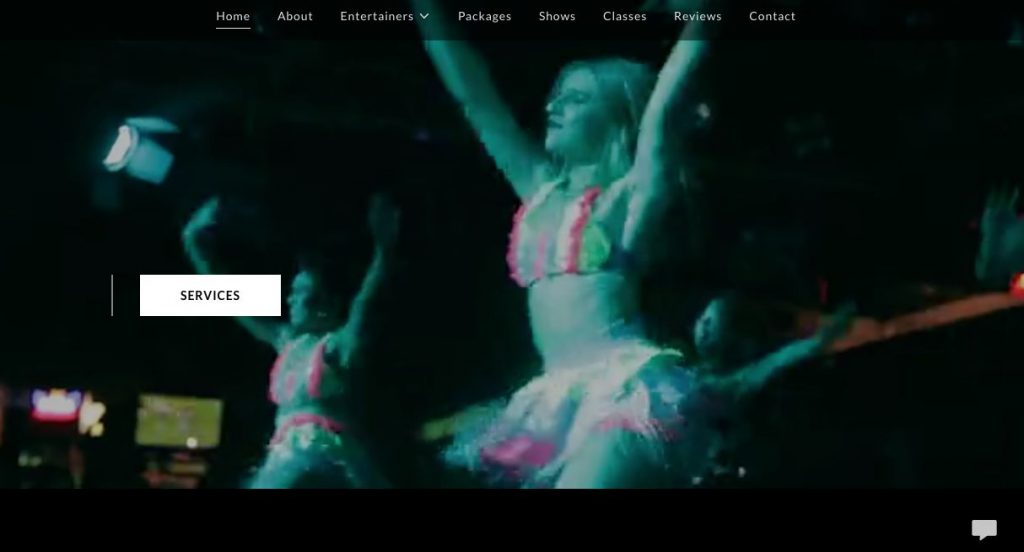 ABOUT US
Jade Entertainment Company are Melbourne's newest entertainment providers with a passion for bringing people together through song, dance and music. We aim to create memorable experiences for our clients through unique productions, skillful performers, innovative choreography, brilliant costumes and exquisite shows!
Our company members are the finest entertainers in the industry. Each member has trained and performed professionally for more than 10 years. To be a performer of Jade Entertainment Company there is an audition process and a prerequisite of a minimum of 2 years full time studying song, dance, musical theater and or fire performance.
Jade Entertainment Company members attend extensive weekly training sessions to keep their skills and technique in the best possible shape. We are constantly thriving to push the limits and go above and beyond all expectations. Meticulous planning goes into choreographing, costume designing and music editing. Our director and performers construct, build and rehearse hours on end to create the perfect performance just for you!
Our shows are unforgettable, not only because of our top quality performing artists but due to our amazing eye-catching, showstopping costumes. For every show we produce and every client we perform for, you can trust us to show up with all the glitz and glam, shimmer and sparkle you could imagine. We have unique costume sets designed for our bright, colourful and  incredible productions. All of our costumes are suitable for corporate shows as well as family-friendly and conservative audiences.
We have costume sets to cater for every event and every show including jazz, commercial hip hop, club-wear, promotional work and Samba costumes. Our Samba costumes are especially inspired by authentic Brazilian designs, hand crafted and completed with thousands of gems, crystals and vibrant feathers. Based in Australia, Jade Entertainment Company has provided entertainment for many events in and around Melbourne.  We train hard, work hard and aim to entertain!
DJ SERVICES
Alex Dicconson has established himself as one of the best in Melbourne city. He has played his mash-ups on community radio and then advanced his DJ techniques  to playing at functions for family and friends. Following that, Alex was booked to DJ at many private events including birthdays, conferences and weddings.
His music and mixes truly speaks for itself. Alex takes advantage of social media  platforms such YouTube, Facebook and Instagram to upload unique ideas for transitions, scratches and toneplay. Alex continues to share his most popular mixtapes and sets for followers to listen to.
Alex became an official Culture Kings resident DJ at Chadstone and other Melbourne city stores. Nas, YG, Big Boi (Outkast), Jaden Smith and Trippie Redd and have all caught Alex's sets for their in-store appearances and have all been genuinely impressed. Alex has garnered the attention of World R&B Superstar Chris Brown on his Instagram page. Chris Brown had followed Alex and has liked multiple Breezy posts. Nationally syndicated radio show 'The Drop' on FoxFm (101.9fm Melbourne) recognised Alex's talent, and aired his exclusive guest mix. Alex has also been
featured on Rodney O's Block Party on KIISFM (101.1fm Melbourne) with several exclusive guest mixes.
He has played at some of the best clubs (Crown, LUX, R&B At Empire, Cloud Nine, Wah Wah Lounge, La Di Da, Oasis Parlour) and boat parties across Melbourne showcasing his scratching, wordplay and toneplay abilities. Inspired by Legendary DJ's Jazzy Jeff, A-Trak, Jam Master Jay and Grandmaster Flash; Alex knows what it takes to grab the attention of the crowd and to rock the party!
THE ULTIMATE WEDDING PACKAGE
All your wedding entertainment needs in one package!
- Wedding Dance Classes
- Singers & Musicians
- Dance Shows
- DJ Entertainment
- Group Dance Classes
We love LOVE! Let us help you celebrate your special day with a memorable show and unforgettable experience. What better way to celebrate your big day by entertaining your guests with a team of professionals catering for all your entertainment needs. Purchase our private wedding dance classes and get a discount on our wedding event entertainment. Choose from fire performers, singers, dancers and DJ entertainment.
MTA Entertainment and Events
Musictheatreaustralia.com.au
386796055
Welcome
MTA Entertainment and Events is a unique entertainment and event consultancy. MTA specialises in delivering high-quality Australian entertainment for corporate, community and special events throughout Australia and Asia. Our passion for being innovative, fresh and creative ensures that we deliver the ideal entertainment and event solutions for you in an easy, stress-free manner.
Hire Keynote Speaker
Whatever the occasion, MTA can provide music, feature acts, celebrities, keynote speakers, roving performers, MCs, circus acts, comedians, jazz bands, cover bands, classical & string ensembles, teambuilding and much more for your next corporate or private event..
Hear what some of our many satisfied customers have to say about our entertainment services!
Contact us today to help you create your next entertaining event! We guarantee to help you create a very special and memorable event!
Read about some of our recent events...
Event Entertainment - About Music Theatre Australia
Music Theatre Australia is a leading Australian entertainment agency and entertainment production company. MTA manages and represents a wide range of artists and acts including circus performers, celebrities, musicians, comedians, opera singers, MCs, jazz, street theatre and team building programs throughout Australia, Asia and the world.
All Star Party Band Melbourne
Allstarcoverband.com.au
404836044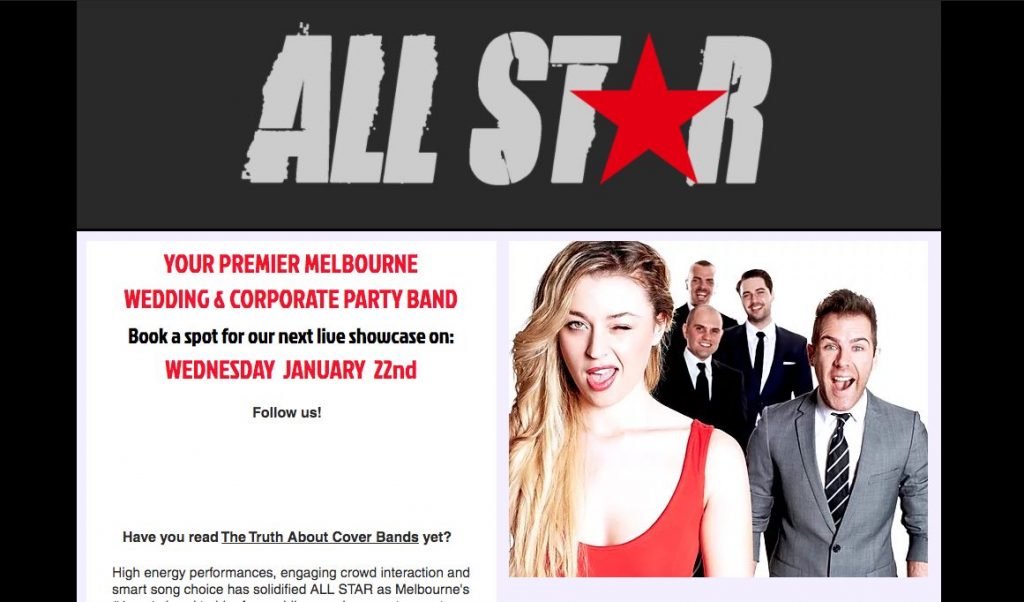 High energy performances, engaging crowd interaction and smart song choice has solidified ALL STAR as Melbourne's #1 party band to hire for weddings and corporate events.
Playing the latest Top 40 songs plus all the classics from decades past, ALL STAR will have you and your guests on the dance floor in no time.
With over 2000 performances between them, ALL STAR boasts Melbourne's most professional working musicians.
Clients ALL STAR have played for include:
Nandos, RSPCA, IBM Australia, Crown Melbourne, McCain Foods, Isuzu, Showtime Events, Melbourne University, Associated Retailers Limited, Wyndham Resorts and more.
Your next steps...
Bookmark the website
Read the FAQ's
Contact them to check availability for your event date
Register your attendance to the next live showcase
ALL STAR look forward to hearing from you!
Lights & Sights Entertainment Melbourne
Lightsnsights.com.au
439155222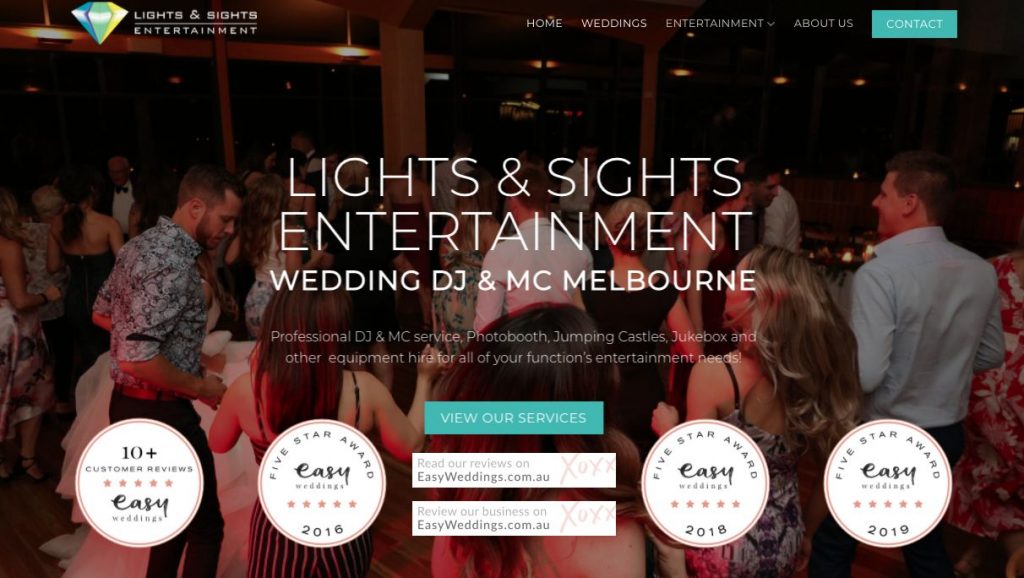 WEDDING DJ & MC SERVICES
At Lights & Sights Entertainment, we understand how important it is to have your special day exactly as you want it and we happily tailor our services to meet your needs. One thing you and your partner can count on is the ability to not worry about a thing when it comes to the entertainment at your wedding.
INITIAL MEETING
In order for us to ensure your evening runs as smoothly as possible and also for our staff to get an idea on your vision for your big day, we aim to meet with you prior to confirming any bookings for our services. That way you get to know our staff, we get to know you, your partner and what what you're after.
In this meeting we discuss;
Discuss the schedule for your wedding
Establish your musical tastes
Find out about your vision for the wedding reception
Discuss your do's and don'ts
Plan the setup of our equipment at your venue
Blazyn Nights Wedding DJ Melbourne
Blazynnights.com
419882371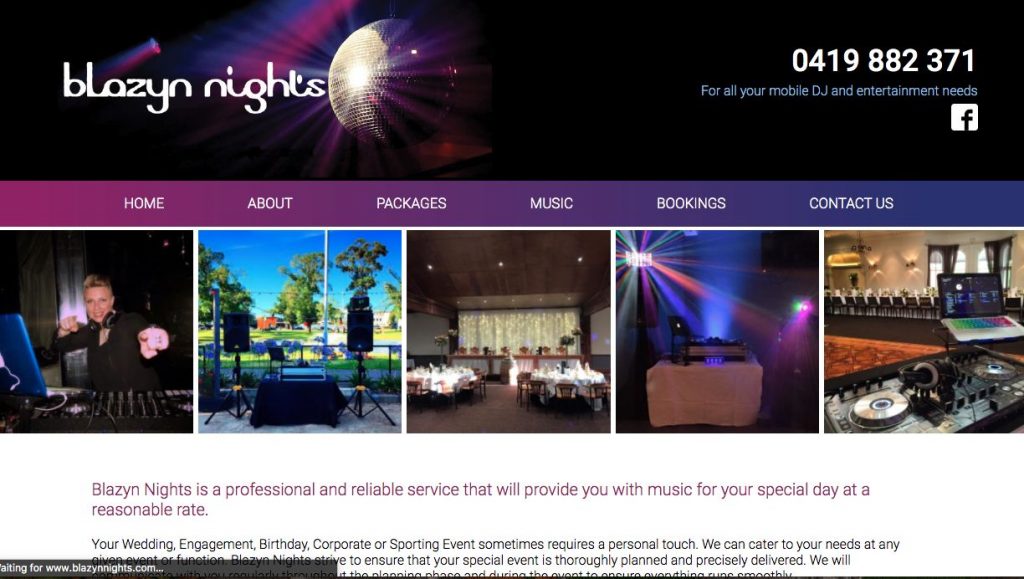 Blazyn Nights is a professional and reliable service that will provide you with music for your special day at a reasonable rate.
Your Wedding, Engagement, Birthday, Corporate or Sporting Event sometimes requires a personal touch. We can cater to your needs at any given event or function. Blazyn Nights strive to ensure that your special event is thoroughly planned and precisely delivered. We will communicate with you regularly throughout the planning phase and during the event to ensure everything runs smoothly.
As a small business, Blazyn Nights will ensure that you always get the care and attention that you deserve for any special occasion. This means that we will speak to you in person, email, text and make sure that our channels of  communication are open. We can meet with you before your event at the venue or at another destination to arrange music and run sheets. This is especially important in the case of weddings and larger events that have a lot of planning and other services involved.
MUSIC
Most people know what kind of music they want for their events and you can find these tracks on the Music page. However, if you are unsure as to what type of music to choose for your event we can help you tailor a list of tracks to get everyone up on the dance floor.
Blazyn Nights also has the talent to be able to sing tracks live to backing tracks or even have a Jazz Duo/Trio serenade your guests.
If you have a list of songs that you would like to be sung as a live performance to backing tracks in any style, this can be arranged, please ask us and have a listen to our Soundcloud.
Please get in contact so we can work together to make your event the best of your life.
WEDDINGS
All weddings are looked after with professionalism and care as this is your big event. We will meet with you to do a pre-wedding consultation to discuss any personal requests.
Weddings are packaged at a minimum of 5 hours. If additional time is required, please contact Blazyn Nights to discuss your needs.
We are happy to liaise with other professionals at your event, eg. event management, MCs, photographers and videographers.
We have a cordless microphone that can be used for speeches and used to transmit audio to the professional in charge of your video recording for the night.
Music can be chosen by you to play at your function (please refer to our song lists).
We will play your guests' music requests, chosen on the night.
Blazyn Nights will always provide a most experienced DJ/MC on the night of your event. This will ensure that there are no hitches, making your event a most memorable occasion.
We are able to MC your function on request.
SERVICES
MC services available
Extensive experience in the music industry
Packages and pricing to suit your budget
All weddings are looked after with professionalism and care
A pre-wedding consultation to discuss any personal requests (if required)
Blazyn Nights will play your musical requests and those of your guests chosen on the night!
A live Jazz Duo/Trio is also available for early music, please ask us about our Live Jazz and DJ Package
Lua Lua Wedding Band Melbourne
Lualuamusic.com
405841504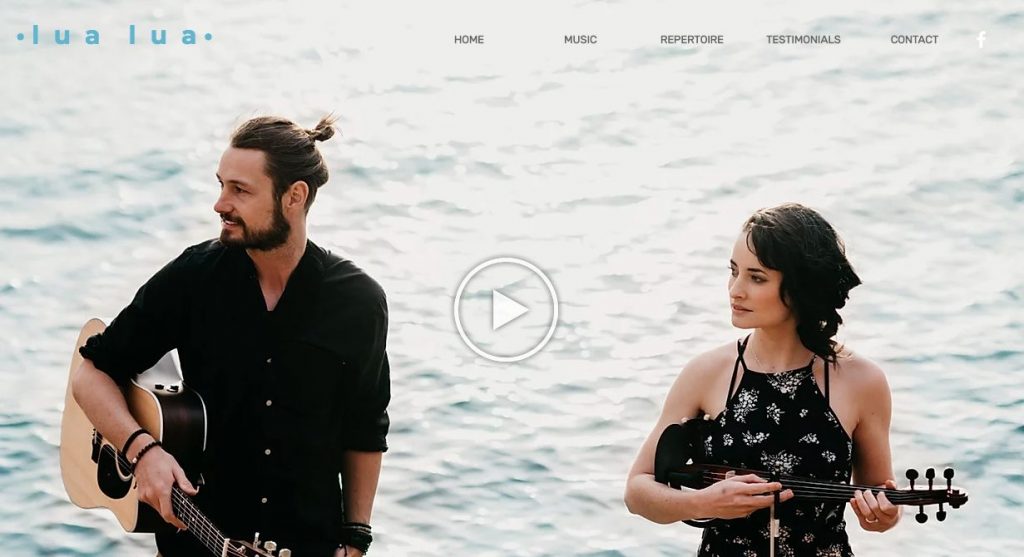 Lua Lua is the joint cover music project of Paul Cooper & Tamblyne Brittaine. Based in Melbourne, this modern duo showcases the many multi-talented skills that both Paul & Tammy possess as seasoned musicians.
Lua Lua harbours a range of variations within their act; featuring the classic & timeless instrumentation of piano & violin both in its classical form & contemporary as well as dual vocal, synth, beats and electric guitar.
Lua Lua have the ability to produce full lively soundscapes as well as ambient & relaxing atmospheres.
Pure Silver Flutes Wedding Band Melbourne
Puresilverflutes.com.au
409351135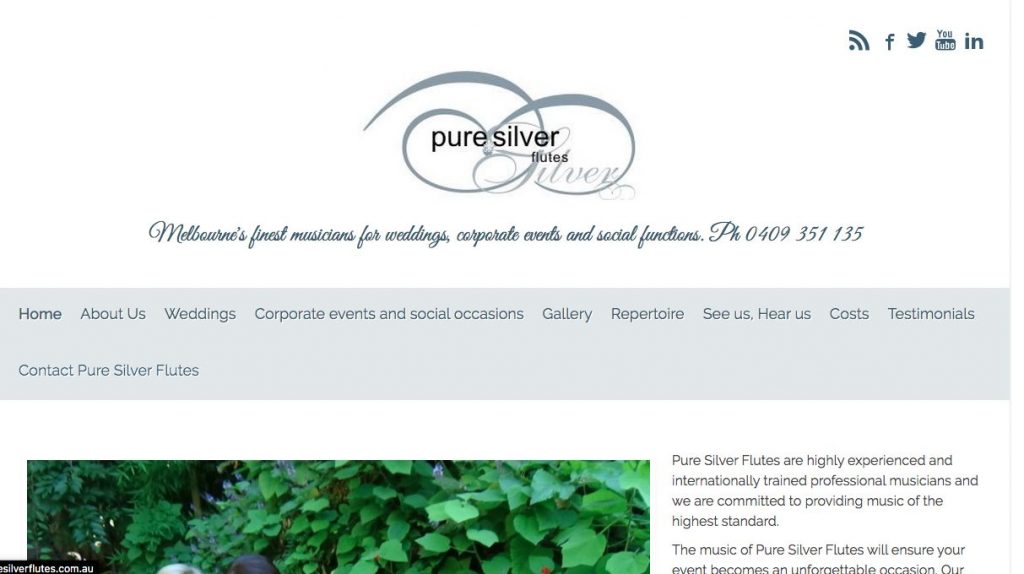 Pure Silver Flutes are highly experienced and internationally trained professional musicians and we are committed to providing music of the highest standard.
The music of Pure Silver Flutes will ensure your event becomes an unforgettable occasion. Our experienced musicians take pride in providing flute music of the highest calibre and utmost enjoyment. Pure Silver Flutes perform throughout Australia and have come to be recognised for their vibrant and charismatic performances and highly professional approach. We perform regularly at weddings, corporate events and private functions, as well as maintaining our involvement in Australia's classical music scene.
Flexible in both size and style, Pure Silver Flutes allow you to choose the number of musicians required and the genre(s) of music appropriate to your event. We work closely with every client to personalise the programme, ensuring that the music is a unique reflection of the occasion. We are also able to arrange pieces with sentimental meaning so that it can be performed at your special event.
Pure Silver musicians can perform as duo, trio, quartet, quintet or larger.
About Us
Pure Silver Flutes are highly experienced and internationally trained professionals and have performed with Opera Australia, Orchestra Victoria, The Australian Pops Orchestra, Melbourne Opera, South Melbourne Symphony Orchestra and the Victorian Concert Orchestra amongst others.
All Pure Silver musicians are specialists in their field and are graduates of the Victorian College of the Arts and the Melbourne Conservatorium of Music. They enjoy the privilege of regularly performing and maintaining a successful profile in the Classical music arena.
Our experienced musicians take pride in providing flute music of the highest calibre and utmost enjoyment. Pure Silver Flutes perform throughout Australia and have come to be recognised for their vibrant and charismatic performances and highly professional approach. We perform regularly at weddings, corporate events and private functions, as well as maintaining our involvement in Australia's classical music scene.
In The Mix DJ Service Melbourne
Inthemixdjservice.com.au
420984789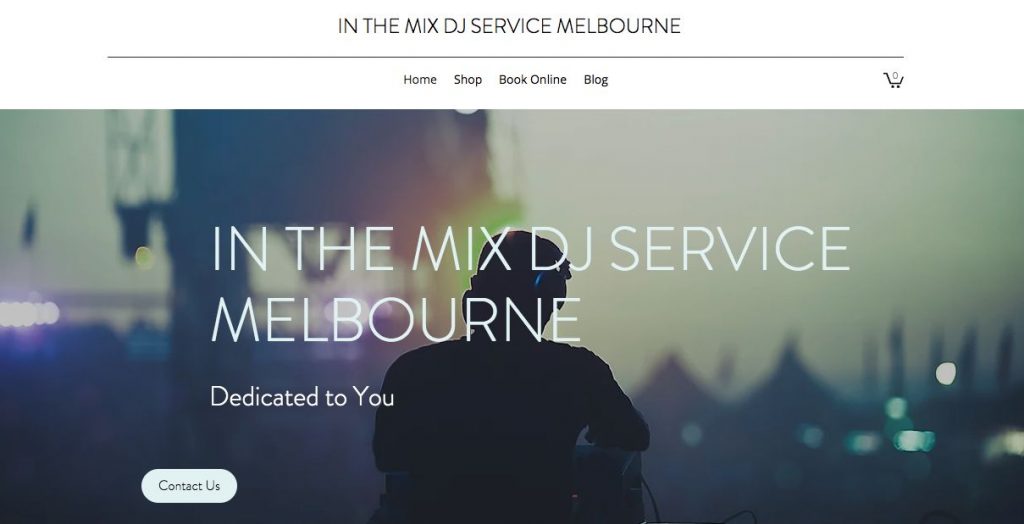 HOW WE WORK
Our Mission
In The Mix DJ Service is run by a team of passionate music lovers in Melbourne.
You will remember your event forever.
Each party is unique.
We let the music speak for itself.
Our disc jockeys maintain complete and absolute respect for your musical taste.
We play pure music without any gimmicks. Great music should be the inspiration.
We love to play unexpected musical treasures that make the crowd go wild!
We work very closely with each client to create your individualized song list
and to ensure that your party reflects your personal and musical style.
We believe in tasteful use of the microphone for any pre-approved announcements.
Music has its own voice. You can have a rocking party and still be elegant.
No two events are alike.
You will see that each event has your personal touch.
For more information, contact the team directly. We'll be happy to answer any of your questions!
Absolute Class Discos Melbourne
Absoluteclassdiscos.com
418396036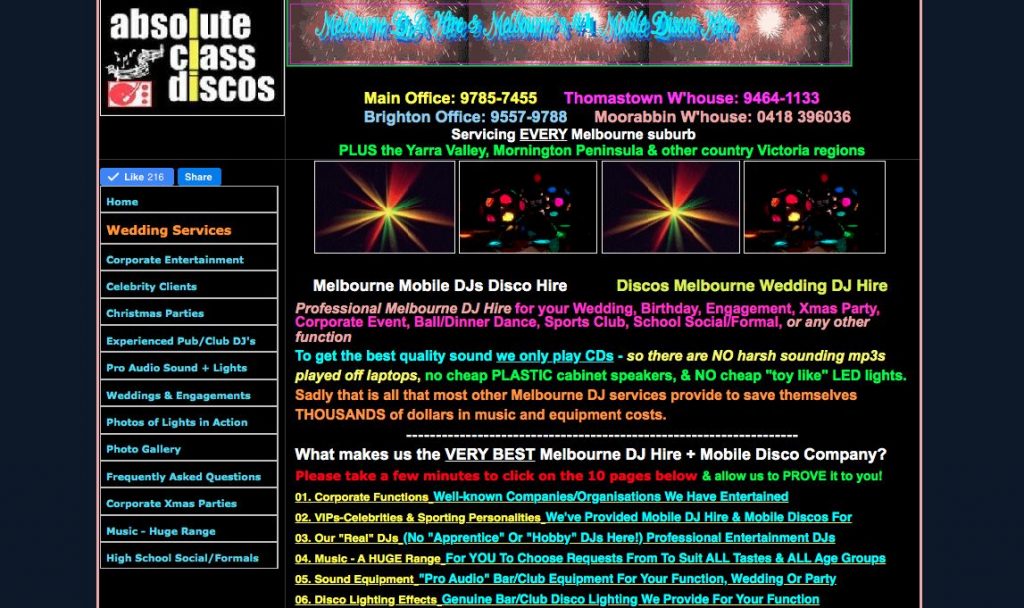 Professional Melbourne Wedding Entertainment
Our Wedding DJs Melbourne & Wedding MCs Melbourne
We have been providing our very experienced & very professional Melbourne Wedding DJs,
Wedding MCs & highest quality mobile disco systems all over Victoria since 1988.
We've provided our Melbourne Wedding DJs/MCs & Melbourne mobile disco systems
at over 2,500 Melbourne Wedding Receptions all over Melbourne & suburbs
as well as into the Yarra Valley, all down the Mornington Peninsula, and in fact all over Victoria.
HAVING A "FACE TO FACE" MEETING
BEFORE THEY DECIDE whether or not they wish to book our services for their
Wedding Reception, prospective customers are MORE THAN WELCOME to come to our
main Admin Office for a "no obligation" meeting with our Managing Director so that they can
get LOTS of details about our services & ask ANY questions AT ALL, about our Wedding
DJs Melbourne OR our sound systems, OR our lighting, OR our music request lists etc etc.
OUR MUSIC REQUEST BOOKS & LISTS
AT THAT MEETING they can also inspect our standard 95+ page Music Request Book
which contains all the official end-of year charts from 1990 up to 2012, plus a list
of the biggest songs of 2014 so far (which we update every week).
It also contains the current week's Top 100 for those who want some very new music.
Potential customers can also look thru our 4 page list of over 250 great Wedding Reception
"background" songs to be played at low volume during the serving and consumption of the
Entree & the Main Course and subsequent clearing of plates, cutlery etc. Over the years,
many Wedding couples have told us the "background music" is actually MUCH harder to
choose than the "dancey" stuff, so we created this 4 page "background music" list
to make that task a LOT easier.
Our main 100 page Request Book also contains the current week's Top 100 (as mentioned
above), plus the current week's Dance, R&B & Club charts for customers wanting a bit
of very up to date music at their Wedding Reception (which we find that MOST of our
Wedding couples do - no matter whether they are in their 20's, 30's, 0r 40's).
Then it also contains a list of 160 "retro" songs which are widely regarded as the "all-time
party classics". They are mainly from the 70's & 80's but there are a few 50's & 60's tracks
as well. It would take almost 10 hours to play all of these 160 songs, so in most cases
that should be more than enough to choose from.
BUT for anyone wanting a LOT more choice of 60's, 70's and 80's hits, THEN we also have
an extra 70 page request book containing the 120 biggest songs of EACH YEAR in order
of popularity for the 35 individual years 1955 to 1989 (or just tell us how far you want the info
to go back) - so each year takes up 2 pages with the biggest hit songs of that year
numbered in order of popularity from 1 to 120.
So ANY customer who does book with us, and who wants BOTH Request Books
will then get more than 170 pages of music lists and charts to go through and choose from.
NOT ONE other Melbourne Wedding Reception Venue Mobile DJ Hire company has
ANYTHING LIKE this HUGE 150+ pages of music info available. The biggest request list
we know of ANY other company providing is LESS THAN 20 PAGES- so CLEARLY you get
A LOT LESS MUSIC to choose from with EVERY other Melbourne DJ Hire company.
Feel Good Events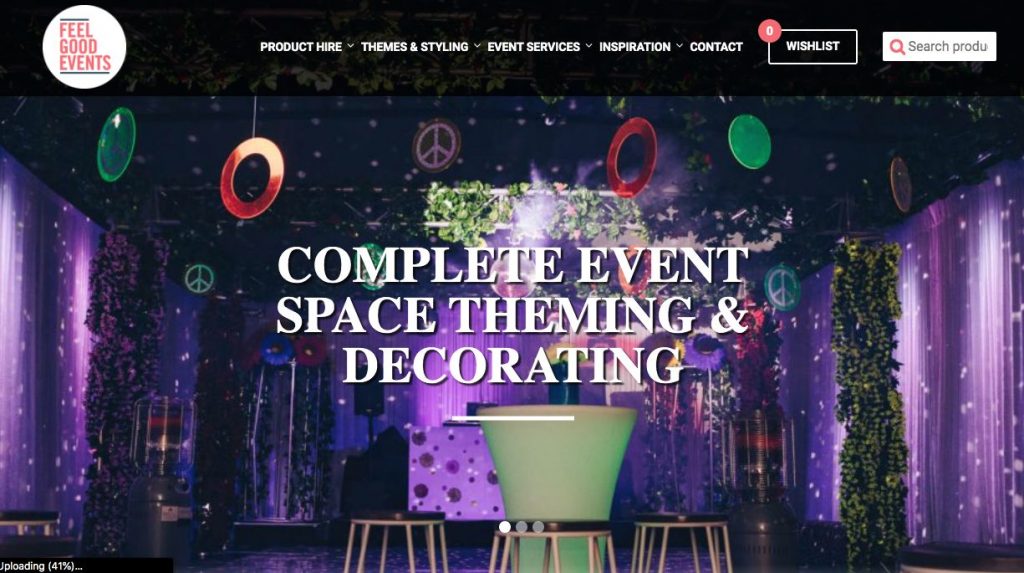 Feelgoodevents.com.au
SELECT AN EVENT SERVICE BELOW BASED ON YOUR NEEDS
PARTYOLOGY
Put On the Best Party Of Your Life
If you are really serious about throwing the best party of your life then the Partyology Experience is for you.
This service is for those people that want a stress free experience and want an event professional to help Plan, Deliver hire equipment and Decorate their venue to create the best party experience possible
HELPING HAND
Let Us Do The Hard Work For You
If you are happy to plan and organise everything for your party yourself but just need help with equipment hire then the helping hand service is for you.
The Helping Hand service is for those people that require delivery and set up of their chosen equipment and may need help with equipment choice.
DO-IT-YOURSELF
Save Money By Picking Up & Setting Up Yourself
If you want to save money and are happy to do all the work required to pick up and set up your event equipment then this is the service for you
Browse party hire products on our dedicated Do-It-Yourself website. Select the equipment needed for your event and book it all in using our secure payment system.
Party Hire Made EASY
I have not had one person text me and tell me anything
The Team At Feel Good Events Are Driven By Our Passion For Creating Memorable "Feel Good" Experiences
Yes, we can definitely hire event equipment to you and help you decorate your event space as that's what we do however, what Feel Good Events really love doing & are professionals in is using our Partyology Philosophy to help create an atmosphere that stimulates your guest's senses in every way. An atmosphere that creates an awesome FUN PARTY EXPERIENCE that connects people together and makes your guests feel relaxed but also brings out their inner party animal.
What we really love doing is making you and your guests Feel Good
Blue Avenue Entertainment
Blueavenue.com.au
Blue Avenue Entertainment is a boutique agency dedicated to providing Melbourne's most impressive bands to create a real entertainment experience for your event. Each of our bands consist of the most talented, professional and experienced musicians who create the ultimate live music solution.
At Blue Avenue we assist individuals and businesses  to find the right entertainment for all sorts of events. Whether you are looking for a cover band or DJ for your wedding or corporate function, or a Jazz band to create class and sophistication we have the solution for you.
We pride ourselves on our customer service and we're here to help, so get in touch with Blue Avenue Entertainment today.
Melbourne's Best Wedding Bands
A wedding is never complete without the excitement only a live band can deliver, true quality cannot be replaced. Treat your guests to one of our carefully selected bands and dance the night away with Melbourne's top musicians performing 100% live for a real entertainment experience you and your guests will remember for a very long time to come.
PLEASE NOTE, our acts are currently in high demand. If you have a date for your big day, we do encourage you to fill in an enquiry form today to book your artist of choice. To hear songs from each act, and watch video of them live and in action, simply click on the 'Hear songs from this band…' link next to your musician of choice.
Melbourne | Sydney
Soul City
With a mission to play funky music, Soul City have developed a live show that packs out dance floors. With the band's members being some of Melbourne's most in-demand musicians, Soul City have performed at all of the biggest venues across the city.
Masterblasters
Featuring two sensational vocalists backed by a super funky rhythm section, look no further than Masterblasters for your next event!
Stolen Apples
After one event with this band, you will understand just what a party is all about! Stolen Apples provides an electrifying and high energy show that will leave your guests with unforgettable memories and keep them smiling and on the dance floor the entire night.
Electric Night
Catering for all tastes with a huge selection of music covering your favourite genres from Pop, Top 40, Rock, R&B, Jazz, Funk, Soul and the classic hits. This 4-piece band are a seriously experienced wedding band and are guaranteed to fill the dance floor.
Dream Shake
A truly unique Melbourne band who specialize in Soul, R&B, Jazz, Hip Hop, Reggae and Pop music. This flexible 3 or 4 piece outfit utilizes up to three vocalists covering anything from Old School Soul and R&B to Modern Pop and Classic Favourites.
Radio City
Professional Funk, Motown, Pop & Soul band consisting of the best musicians from the Melbourne music scene. Radio City breathe feeling into the hits that you know and love bringing rhythm and soul to every song they play.
Black Tie Boogie
Made up of  internationally recognised artists and born entertainers playing the finest music ever created, they are a dedicated party band playing hits from The Stones to Outkast, The Beatles to Dr Dre featuring five core members from Melbourne's deep-rooted soul, jazz and party music scene.
Smash
Led by an exciting singer/guitarist this 4-piece band consists of highly talented musicians with extensive local & international experience. Performing a mix of Pop, Rock n Roll, Soul & Reggae and armed with a set list to suit everyone's tastes.
Midnight Mayhem
One of the most versatile bands in Melbourne offering a selection of the most popular music spanning decades and covering almost every genre imaginable. Weddings, corporate functions and private events are not complete without Midnight Mayhem.
Tee & 2
Powerful band fronted by a sensationally charismatic lead singer and guitarist. With influences ranging from John Mayer, Bon Jovi to Michael Jackson, this band will make any event special!
The Payback
The Payback fuses all the groove you can handle with funk, pop and party anthems. They mix unbelievable showmanship and talented musicians with a perfect repertoire fit for any party or wedding.
Funk Kitchen
Providing a seamless night of entertainment for any event, the band promise to deliver a memorable night full of RnB, Soul, Funk and Top 40 hits performed by professional, dedicated and talented musicians.
Luke J Band
Diverse, experienced and talented frontman Luke J performs in his high-octane trio delivering amazing shows night after night offering flexible line-ups tailor made for any event.
Breaking Band
Classics, rock anthems, ballads & pop hits… this band has you covered! Featuring 4 members ready to put on a rockin' show that's friendly, fun and always engaging with the audience
Cloud Nine
Melbourne's freshest wedding band. Cloud Nine are an outfit featuring highly experienced and professional musicians bringing you modern sounds with a blend of Pop, Rock, RnB, Funk, Soul and the Classics.
Lessgo
A high-energy cover band fronted by charismatic singer Kristie who has spent most of her life behind a microphone performing in bands, including a stint on the 2019 season of The Voice.
LeCure
Fronted by Jimmy Cupples (Channel 9's The Voice), LeCure feature Australia's finest musicians who create a soul-thumping entertainment experience that will leave your guests impressed and begging for more.
The Grooves
Fronted by a leading member of the Australian rock outfit The Androids famous for their hit "I'd Rather Do It With Madonna",  The Grooves offer an energetic, experienced and extremely fun 3-6 piece band.
Tanzanite
A slick 4-piece band featuring remarkable vocals backed by musicians with a wealth of experience will make you feel part of the action all night long. From luxurious background music to dance floor derbies, Tanzanite have something for everyone!
All Night Long
An impressive all-live band featuring Melbourne's top talent. Offering a rocking 4-piece band up to a mind-blowing 11-piece ensemble. All Night Long will have your guests up and dancing in no time!
The Automatics
Melbourne's ultimate live band performing your favourite Rock, Funk, Soul, Jazz and Top 40 tunes.  The pinnacle of professionalism, the band's huge repertoire covers classics from the past 6 decades and will keep your guests entertained and dancing all night!
Diggity
If you're looking for a fresh & talented band then you must check out Diggity. Fronted by The Voice 2013 contestant Maya Weiss, this band will keep your dancefloor packed all night with their groovin' selection of tunes.
Six Degrees
From 70's, 80's and 90's right through to RnB classics, their repertoire is a catalogue of unforgettable tunes to keep a crowd partying all night long. Consider Six Degrees your human jukebox.
Into The Groove
Toe tapping, hip snapping and groovy, Into The Groove deliver shows that bring audiences to the dance floor keeping punters happy with their high energy shows and repertoire.The Twilighters
Specialising in Chinese weddings, the hugely crowd-pleasing Melbourne act The Twilighters will fill the dance floor with today's Top 40 hits and everybody's favourite tunes from the past five decades.
Tiana & The Rockin' Retro's
Go back to the glory days of Rock N' Roll but without the blown eardrums. This lively act buys a ticket to the tried and true hits of the most beloved classics as well as the bangin' hits of the naughties & now.
First Floor
Born out of the idea that there's groove, funk, and soul to be found in all Pop music, First Floor are a live cover band equipped to bring a fresh and electrifying atmosphere to any event.
Virtual Reality
Whether it will be smooth ballads or the grooves that have guests packing the dancefloor, Virtual Reality's versatile repertoire covers the 60's right through to today's classics and will guarantee to leave you wanting more.